EARTH: Local residents of this terrestrial planet have recently experienced many unusual events. Earlier this month, a new calendar took effect after widespread rejection of the old one. The new calendar—dubbed "2021" by the residents of Earth—was highly anticipated after the previous calendar, known as "2020," was met with broad disappointment.
"We were all very happy to see 2020 go," said Earthling Mike Rotchic. "But so far, 2021 has been hard to keep up with.
And Mr. Rotchic isn't the only Earthling who is unsure about this new calendar; Ms. Ophelia Biggins of the United States can't seem to make up her mind, either. "It started nicely with good weather, but less than a week in, that hoopla in D.C. happened."
The "hoopla" Ms. Biggins is referring to is, of course, the protest-turned-riot at the United States Capitol, which occurred on January 6. "I couldn't believe it," Ms. Biggins continued. "A man wearing a Viking hat was the center of attention for all of the United States. Probably a good chunk of the world, too," she added.
The man, pictured, has since been identified and is being held in Washington, D.C. and has been charged with a crime.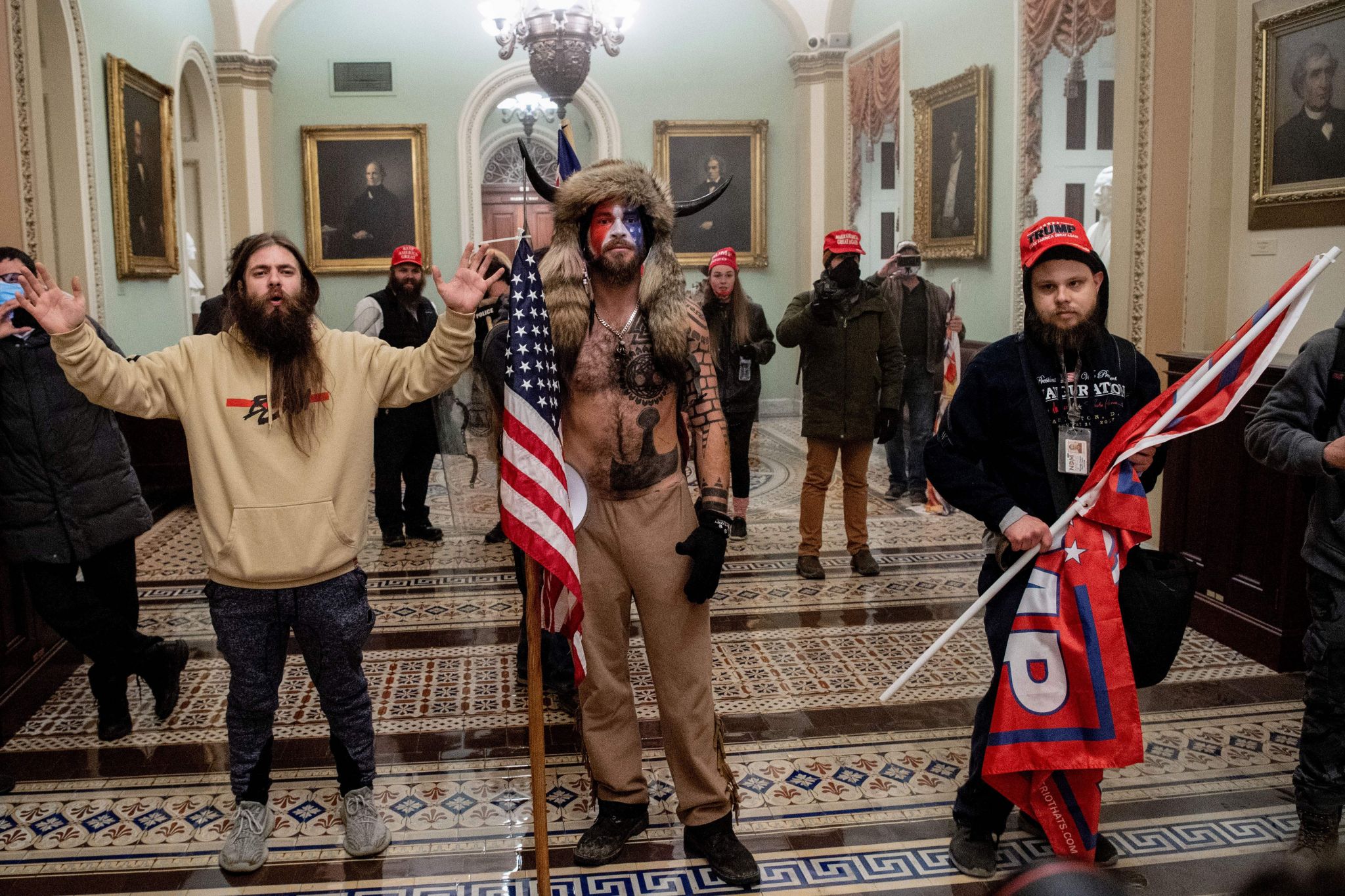 In the days following January 6, a flurry of activity around Earth left many inhabitants reeling. Covid-19 vaccine administration hit snags around the world, with some countries receiving and administering many doses, and others lagging behind. Additionally, former United States president Donald Trump was banned by many social media outlets, including Twitter, Facebook, and Instagram. This development caused outrage among his supporters, joy in his detractors, and confusion in those who disagreed with his ban but were certainly happy to hear less of him.
Entrepreneur and top tier Twitter follow Elon Musk surpassed Amazon chief Jeff Bezos to become the richest man on Earth, with an estimated worth of nearly $200 billion, which equates to 150,000 Federation Credits. Speaking of Twitter, a dad just doing his best received his fifteen minutes of fame when he tweeted a thread related to teaching his daughter how to eat beans. The man's treatment of his daughter was widely criticized, and as happens when people are mean on the Internet, people eventually found racially-offensive tweets from the man dubbed "Bean Dad."
In the world of pop culture, butt Kim Kardashian and butt enthusiast Kanye West announced they were divorcing after six years of E! Network marriage. Rumors abound that the relationship was doomed after Kanye was discovered having a relationship with anatomical male Jeffree Star. "Now who will my son look to as a role model for being a husband?" asked Earthling and struggling father Jim Katzencradel. "I thought if I just let my son keep up with Kanye and Kim I could pretty much phone it in."
One Direction alumnus Harry Styles is reportedly dating Olivia Wilde, who is ten years his senior. Eyewitnesses report that Harry Styles is "the man," and "a true legend" after photos of the couple holding hands first went public on January 4.
On January 20, Joe Biden was sworn in as the forty-sixth president of the United States. He celebrated by signing a staggering 17 executive orders in his first week in office. For readers unfamiliar with this particular earthen government system, an executive order is when a democratically elected person completely flouts the entire idea of democracy by making autocratic, virtually unchecked rulings without the consent or advice of the legislators.
Rapper and renowned doctor Dr. Dre suffered a brain aneurysm on January 5. Dre, who holds a PhD in Kickass Beats from Oxford's Jesus College, is on the mend and is reportedly recovering in his beat lab in Southern California.
In other Covid-19 news, the United Kingdom entered another lockdown as cases soared during the initial vaccine administration. In Wisconsin, a pharmacist who definitely has an actual degree and for sure didn't just write "Farmasee Dokter" on a piece of construction paper, was arrested when he tried to destroy a supply of Covid vaccines, believing them to be unsafe. He was charged with a crime. New variants of the virus have been discovered in the United States, the United Kingdom, and South Africa, among other places. A vaccine's effect on these new variants is still being studied.
Impeachment proceedings against former president Donald Trump began January 13. United States Senator and living artifact Patrick Leahy presided over the opening of the impeachment trial, but was taken to the hospital after suffering a severe case of being a full-time employed politician at the age of 80. He is back home but is not expected to recover from the fact that he's still a full-time employed politician at the age of 80.
In related news, Senator and aspiring Bond villain Ted Cruz redeemed himself slightly in the public eye by proposing an amendment to the US Constitution that would impose term limits on congressmen and senator. The resolution, first proposed in 2019, was reintroduced by Senator Cruz on January 25. "I never thought I could like anything he's ever done, but I suppose stranger things have happened," said pink-haired Portland, Oregon resident Ann Teefa. [Editor's note: Ann Teefa was arrested immediately following this interview for throwing a cinder block directly at a florist who refused to bake a gluten-free cake for Mx. Teefa's nonbinary dog throuple Tik Tok wedding. She was released after it was discovered her target wasn't the government.]
And in economic news, several unwashed video game enthusiasts "completely pwned" several hedge funds by artificially inflating the stock price of businesses the hedge fund was attempting to short sell. A short sell is when someone makes money whenever a business's stock price goes down. The rising stock price resulted in hedge funds losing billions of dollars as GameStop stock suddenly rose. GameStop employees will be able to keep their jobs and franchisees will be able to keep their doors open. But that's bad news for the manipulative billionaires who wanted the the business to fail so they could purchase their sons Gucci boxer-briefs.
The hysterical billionaires with traces of cocaine still in their noses immediately put the video game enthusiasts in an economic time out and began telling them, "do you know who my dad is? He'll sue you, bro. You're done."
The video game enthusiasts were largely held in high esteem from strange bedfellows such as Ted Cruz and Alexandria Ocasio-Cortez, Fox News and MSNBC, and Dave Portnoy and Sherrod Brown. "Yeah, dude, it's sick what those gamers or whatever did to those bank dicks," said Cruz and Ocasio-Cortez in a joint statement.
Hedge fund manager Dave Adend responded to the video gamers' support with an open letter:
"I hope you're happy. My daughter is turning sixteen next month and now I'm going to be forced to buy her Aston Martin DB11 without the polar bear skin interior. If this keeps up I'll likely have to keep the thermostat in my weekend house at 73 degrees. That's too warm! How can we live like that?"
With all of this action, most Earthlings were surprised to learn it is still January.
"What?" stated one woman. "Get out of here," said another.
"There's no way it's still freakin' January. Didn't Biden get sworn in like, seven, eight months ago?" asked Vice President Kamala Harris. "Damn. Well, that's okay, I'm sure I'll be president before it's all said and done." When asked whether she meant January or some time after 2028 when President Biden would no longer be eligible, Vice President Harris refused to clarify.