Texas is a big state, and big states have lots of cities, and when you have lots of cities, some of those cities will have odd names. In Texas, there are cities called Cool, Gun Barrel City, Happy, Dime Box, and even Earth.

And among these many cities there are, predictably, many high schools, which in turn have a wide array of mascots. Sometimes the mascots are something generic like Wildcats or Tigers or Bulldogs. Sometimes the mascots seems normal but are in fact quite quirky. Rockwall High School's mascot is the Yellowjackets, which seems normal until you realize the school colors are bright orange and white—no yellow can be found. Others are unusual but in a somewhat dry way. The tiny town of Trent, Texas (population 337 (Sa-lute!)), near Abilene, is home to the Trent Gorillas. The nearest gorillas to Trent, Texas are probably at the Fort Worth Zoo, 173 miles away.

But then there's a very special subset of mascots that are unique and hilarious for a whole host of reasons. Here are the top ten weirdest and funniest high school mascots in Texas:
1. Cuero Gobblers
Cuero (pronounce KWAIR-oh) is a town of about 6,800 in South Texas and is home to the Cuero High School Gobblers. The name comes from turkeys that are traditionally fattened in the weeks leading up to Thanksgiving, and for reasons that I have yet to learn, the folks in Cuero decided that was the perfect name for the town football team. I'm sure there are plenty of butcher-paper cheerleader signs in their district that say something like "Carve the Turkeys!" but I can't be certain. The best part, naturally, is the 'roided out turkey in their logo.
2. Hutto Hippos
Hutto is a fast-growing town in Central Texas near Round Rock, which is itself near Austin. The population was about 15,000 in 2010 and nearing 30,000 by the latest estimates of 2020 (the most recent year I could find). I don't know why they went with a hippo as a mascot, but apparently hippos are pretty mean. Hippos in Africa are estimated to kill 500 humans per year! Unbelievable. It's kind of an odd choice in the same way that the Trent Gorillas is an odd choice, but I'm here for it because at least they chose an animal that can wreck shop when needed.
3. New Braunfels Unicorns
New Braunfels (pronounced NEW BRAWN-fulz) is a Hill Country city between Austin and San Antonio, and is perhaps best known as the home of Schlitterbahn Waterpark. My wife is from a small town not far from New Braunfels so I thought she might shed some light on the logic of the unicorn mascot, but no such luck. I suppose if you remove all the fairytale connotations so tied to unicorns, they could be intimidating. I mean, it's a horse that could stab you if it felt so inclined, so maybe it's an underappreciated option for a school mascot.
4. Carroll Dragons (Southlake)
Southlake is an affluent suburb in the Dallas-Fort Worth Metroplex. When I was in high school, Southlake Carroll was the team to beat. They were coached by a man named Todd Dodge, and his son, Riley Dodge, played quarterback. They won five state championships between 2002 and 2011. And their mascot is a dragon. When they score touchdowns, a dragon's roar was played over the PA system. I'll be honest, this is my second favorite on this list (see below). I feel like of all the mythical creatures a school could choose from, the dragon is about the most intimidating, so I'm here for it.
5. Hamlin Pied Pipers
I mean…come on, man. How perfect is that? Hamlin is a city of about 2,100 just northwest of Abilene. Hamelin (pronounced the same way) is also a town in Germany where the mythical Pied Piper lived. He played a flute (or pipe) to lure rats away, but when the townspeople refused to pay him, he decided to do the totally logical and reasonable thing and lure the town children into a cave, where they were never seen again. How much scarier can you get as a mascot, assuming your goal is to terrify the other team's parents/booster club. Seriously, this definitely takes the cake for creepiest mascot on the list, but I love it because of the name of the town and their vaguely Jolly Green Giant-looking logo.
6. Mesquite Skeeters
With almost 140,000 residents, Mesquite (a suburb of Dallas) is a fairly large town to have such an obscure mascot. That said, it's also probably the deadliest mascot on the list. Mosquitos kill about 1,000,000 (one million!!!!) people every year, which is almost unfathomable. That, combined with the fact that I grew up near Mesquite so I can tell you for certain that mosquitos are a real problem between April and October every year, make the Skeeter a formidable if odd mascot. As an aside, we were put in the girls' PE locker room when we had basketball games at Mesquite High School, and that was one of the dirtiest, most cluttered locker rooms I can ever remember being in.
7. Brazosport Exporters (Freeport)
Freeport, Texas is a Gulf Coast town south of Galveston, with a population of about 12,000. There are multiple high schools, but Brazosport High has the best mascot, the Exporters. Without doing any research at all, I can safely assume the name has to do with either oil production or shipping. Given that their logo is an anchor, I suppose it's likely shipping, but it still could be oil. Whatever. This mascot wins the award for Most Unnecessary Genderization because their women's teams are called the Lady Exporters. Doesn't that seem unnecessary? I feel like "Exporter" covers men and women. I wonder if they do importing, too. I guess if they did, they'd be the Vandelay Importer-Exporters.
8. Grandview Zebras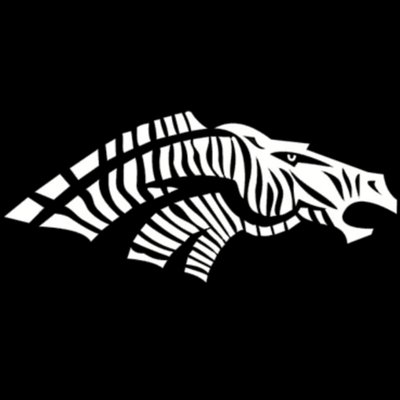 Grandview, Texas is south of DFW but north of Waco and is kind of in the middle of nowhere. With a population of around 1,500, the high school competes in the 3A division for sports. Their mascot is the zebras, which doesn't sound too intimidating. I mean, almost every bit of film footage I've seen of a zebra has included them running from predators. I've never seen a zebra be mean, ya know? But whatever. If the fine folks in Grandview are cool with it, who am I to judge? In a further twist, I don't like the logo. It looks like a UPC code made from a horse.
9. Springtown Porcupines
Springtown is a city of 2,600 northwest of Forth Worth. I very seriously debated leaving them off the list because porcupines seem even less intimidating than zebras because they really only have defensive mechanisms, not attack ones. Then I saw the logo. This logo looks like if Norbert from The Angry Beavers was dyed orange and thrown into a pool of radioactive waste, and it's terrifying. Seriously. Like if Sonic the Hedgehog, a chupacabra, and my darkest nightmares had a baby, it would be this porcupine. I literally forgot to look up anything else about the town because I was so taken back by the mascot. Wow.
10. Winters Blizzards
This is my favorite one on the list. Not because it's particularly intimidating or anything like that, but just because of how perfect it is. Winters, Texas is a town of about 2,500 between Abilene and San Angelo. And their mascot doesn't make sense. Even out in West Texas there aren't that many blizzards, and the physical manifestation of the blizzard looks like a tornado blowing out its birthday cake candles, but I still love it. I grew up outside of Dallas and I had never even heard of Winters, Texas until I meat a girl from there who lived below me in the dorms my freshman year of college. When she told me their mascot was the Blizzards, I lost it, and it's stuck with me for the past 14 years or so. Incredible.
Well, there you have it. Those are the ones I think are the perfect combination of weird and funny. I know I left some off. The Roscoe Plowboys, the Robstown Cotton Pickers, the Crystal City Javelinas…there are just so many. That's why I love Texas, and why I like small towns so much. It's just great when a town can have a sense of humor, not take itself too seriously, and take advantage of the fact that a burly 18-yeard-old behemoth having to say he's the starting left tackle for the Unicorns is hilarious.