Recently the Harlem Globetrotters have argued that they should be an NBA expansion team. Don't get me wrong. I love the Harlem Globetrotters. My parents took us to a Globetrotters' game at Reunion Area for my tenth birthday in 1999, and it was one of my favorite childhood memories. I still have a basketball signed by Showbiz Jackson.
But the Globetrotters apparently want to become a real NBA team, and right now, that's a bad idea. And here's why:
They Haven't Proven Much, Yet
I have no doubt that each member of the Harlem Globetrotters roster is excellent at basketball. Good enough to play professionally, at least. But they haven't played against NBA caliber teams in a long time. They're main rival, the Washington Generals, who since their founding in 1952 have won no more than six games against the Globetrotters, and possibly as few as three. And I know, I know, they're paid to lose. That's what they do. Their job is to go out and lose a game to the Globetrotters.
The Globetrotters have a long, storied history and have done about as much for basketball as anyone. The first black NBA player drafted was a former Globetrotter. Wilt Chamberlain played for the Globetrotters. The Globetrotters have played basketball in 122 countries, according to their website.
But they haven't played against Lebron James in a game that mattered. They haven't played an 82 game season against actual NBA teams in actual NBA stadiums with actual NBA officials. They haven't had to deal with the draft or the G-League or fans or licensing or television deals or free agency or the media or the NBA's ridiculous uniform rules, which weirdly might be one of the biggest hurdles for the Globetrotters to get over. The Globetrotters haven't done anything recently to show that they are a potential NBA franchise.
But That Could Change
Of course, that all could change. I think the Harlem Globetrotters would eventually make an excellent NBA franchise. I mean, the name recognition, the licensing, all of that is fantastic. So what do they need to do to prove that?
First of all, they need to play bigger exhibition games. They need to hire actual referees and play real games against the Washington Generals where they actually play conventional basketball and not just travel and double dribble while the refs aren't "looking." They also need to play some games against Team USA and other foreign national teams. Playing against a college all-star team (like they used to) would also be a good idea. Allow some Globetrotters to go to NBA team workouts to see how they fit in. Play in the NBA preseason.
The next thing they need to do is show they can have an NBA roster. This means no more exclusive use of nicknames, no more little person for novelty (the Globetrotters currently have 4'5″ "Hot Shot" Johnson on their roster), and no more average players. If the Globetrotters want to compete, they are going to need legitimate NBA firepower on the squad.
I think if the Globetrotters are serious about this, they need to rent out a stadium for a year and play half their games there at "home." They need to play without doing anything that is against the rules of basketball, and they need to play with actual referees. They need to get good competition in the gym however they can. They need to televise the games with actual play-by-play and color commentators. They need to hire an NBA caliber coach and try to find as many NBA caliber players as possible, likely through an NBA caliber general manager (I hear Donnie Nelson is looking for work now). And they need to resign themselves to not traveling and barnstorming in the off season. If the Globetrotters do become an NBA team, then they won't play in 122 countries and won't play exhibition games all over the world against a team that's paid to lose.
In other words, in order to be an NBA team, the Harlem Globetrotters would have to stop being the Harlem Globetrotters. No more fun, no more world travel, no more antics, no more half-court granny shots, no more Globetrotters. I don't know about y'all, but I don't want to see that. I love the Globetrotters, and while I do think they could eventually be an NBA franchise, I don't think they can be an NBA franchise without completely abandoning what they are now. They would go from guys having fun and providing memorable entertainment all around the world to a corporate institution run by men and women in suits and having to comply with salary cap rules.
Is That Even What They Want?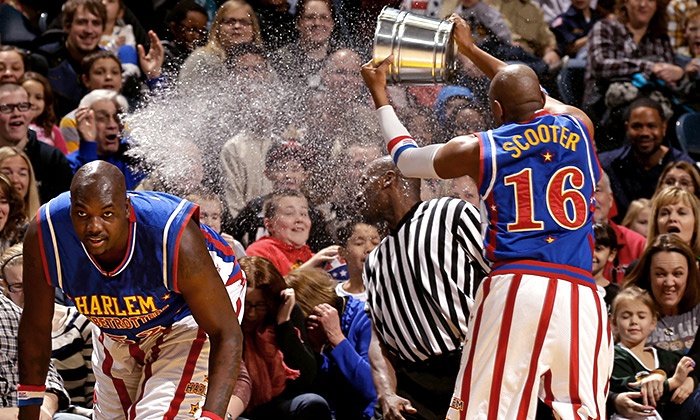 The real question I have is whether the Globetrotters were serious. I don't think they are. Globetrotter games are in-person events. If you're not there in person, you'll miss the fun antics, the bucket of confetti, and the interaction between players and fans that is the hallmark of a Globetrotters game.
And surely Covid has had a negative impact on that. I don't know when the last time the team played in front of a crowd was, or how long it was between the last pre-Covid game and the first post-Covid game. But I would imagine that attendance and exposure has been down, and that the team needs a way to get back in the public's thoughts. And what's a great way to become public if you're a disappearing organization? Make a controversial statement. I just think it would be a shame to see such a storied team lose what has made them one of the great pillars of basketball in America.