Jeremy Clarkson, James May, and Richard Hammond are at it again with another installment of their Amazon series, The Grand Tour. If you have been following the saga of Clarkson, May, and Hammond, you'll know that they released a Madagascar special in December 2020 after Covid-related delays, so it might have come as a surprise that they were able to released "Lochdown" so soon after.
Additionally, the boys have each worked on their own individual Covid-era projects. Hammond had The Great Escapists with Mythbusters alum Tori Bellici, which wasn't bad but wasn't the best I've seen from Hammond. May released the cooking show aimed at Joe Sixpack, Oh Cook!, which was fantastic and I hope will have more episodes in the future. And Clarkson released Clarkson's Farm, his series about how farming is (surprise, surprise) difficult, not-super-financially-rewarding work. "Clarkson's Farm" was excellent and in fact it was just announced that a season two is forthcoming.
While I definitely recommend checking out all of The Grand Tour and each of Hammond's, May's, and Clarkson's individual efforts, today we're focusing on Lochdown.
The Premise
I promised myself I wasn't going to bring up Top Gear, and other than this sentence and the one right after it, I promise I won't. If you ever watched Top Gear when Clarkson, May, and Hammond were hosting (or "presenting" in British English), you'll know that from time to time the guys would have a special show that involved purchasing a used car and driving it through an area that may or may not be hospitable to such vehicles. Lochdown has a similar premise. The guys were tasked with purchasing an American car from the 1970s and driving it through Scotland, from Edinburgh to the Outer Hebrides islands northwest of mainland Scotland.
Each man bought a classic (as in "old") American car. Clarkson bought a Lincoln Continental Mark IV, a favorite among Detroit pimps in the early 1970s. Hammond bought a boat-tail Buick Riviera, which would have looked right at home at any Midwest bank parking lot in 1972. And May bought a mid-1970s burgundy Cadillac Coupe de Ville, a favorite of New York pimps in the early 1970s and which in my estimation was 300 feet long. Of course the de Ville has also been the star of such musical masterpieces as Afroman's "Crazy Rap," Chuck Berry's "Maybelline," my personal favorite on the list, Neil Young's "Coupe de Ville." The cars were all left-hand drive and were, as I'm sure everyone expected, much too large for European city streets.
As the crew wound their way northwest across Scotland, they engaged in the types of hijinks their fans have come to expect from them. There was a chuckle at May's expense at around the 28:30 mark, and difficulties with travel trailers had me pausing so I could laugh without missing anything. The guys also held a little derby to see which country—the USA or the USSR—made worse cars. No matter what the results on the show, I still say the Chrysler PT Cruiser is/was the worst American car, at least in my lifetime. And sure, things were destroyed along the way, but that's what people have come to expect from The Grand Tour and it's what makes fans love the show so much.
One theme of Lochdown was dealing with Covid. Though I'm sure it was a staged reveal, the guys "found out" about Covid as they began their journey and determined that they could not stay in a hotel. This prompted them to buy travel trailers (or "caravans" in British English) and customize them to their own liking. The trailers became the catalyst for many funny moments, including one in which a trailer hitch decided to depart from its host car, which had me in tears because I've had my share of issues pulling trailers in my life.
I have seen other reviews complaining that the guys "destroyed" Scotland with the fumes from old cars, the damage done by the travel trailers, a boat that ended up sinking, and other minutia of destruction that will become apparent when one watches the program. However, I'm sure there are laws in the UK about cleaning up after yourself and I would be shocked if the destruction shown on the program was still there much longer after the cameras quit rolling.
Ultimately the goal becomes to get to an American-themed community on one of the Outer Hebrides islands. To do so, Clarkson, May, and Hammond must construct a floating bridge and get their steel-on-steel American cars over a body of water. As any fan of Clarkson, May, and Hammond could have guessed, their destination isn't all that it appears to be, and the show ends on a "terrible disappointment."
The Review
Terrible disappointment might be how Clarkson jokingly describes the show, but for those of watching, it was a treat. Sure, the educational information that one may have expected from previous collaborations wasn't there—there was no real information about any of the places depicted in Scotland, no information about the American car industry, and nothing that could be confused as genuinely documentarian. However, the guys have essentially made reality TV that isn't just mindless drivel like anything involving a Kardashian or real housewife, or for any Brits that might happen to be reading, The Only Way is Essex. The laughs were there, the interpersonal dynamic between Clarkson, May, and Hammond was there, and the beautiful landscapes of Scotland were in full display.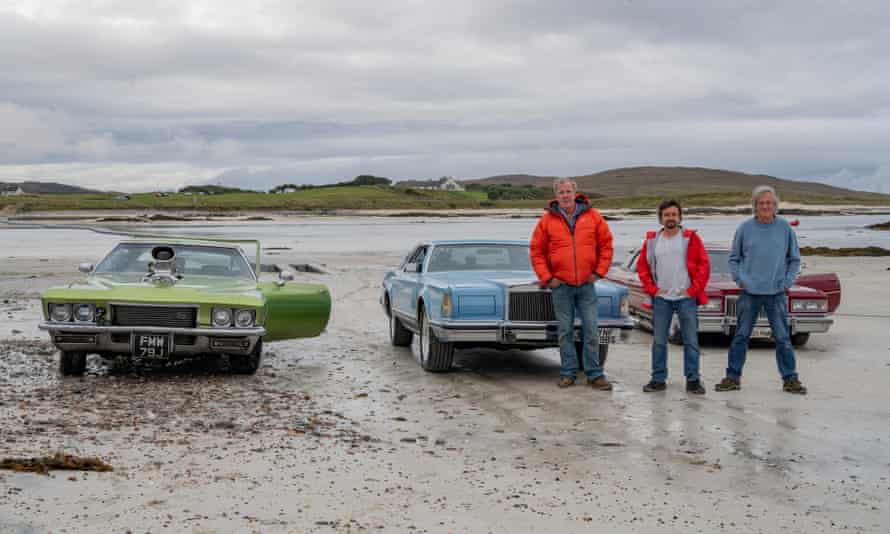 Overall this was exactly what we needed. The Madagascar special was good but didn't have as much group humor because the guys were so rarely all together in Africa. But Lochdown was classic Clarkson, May, and Hammond, which is something fans of the trio always enjoy. This and the Mongolia special are my two favorite things the guys have released under the Grand Tour flag, and I sincerely hope forthcoming specials are in the same vein.
The Conclusion
Now the actual rating. Normally I would be longwinded and talk more about the show itself, but I've done enough of that already and frankly I have work I need to do, so I'm just going to give this a number and move on. I will say that I liked it so much when I watched it that I even tweeted about it. I wonder if the "y'all" will give away that I'm in Texas.
The Grand Tour Presents . . . Lochdown gets an 8.7, putting it one-tenth of a point behind another British classic, Downton Abbey. I'm hoping Lochdown is a new standard for the guys, with the caveat that I hope they also bring a little more education back into the picture. I love history and I love trivia, and there's no shortage of either anywhere in the world. On the next Grand Tour special it is my sincerest hope that there's a little bit more information provided about the locale, cars, people, economy, etc. And I know, I know, why do I sound like someone who has a favorite pocket protector when talking about what is supposed to be a fun bit of entertainment? Because I'm a giant nerd. That's all you need to know.
One last piece of business before I reveal the updated overall rankings. I have re-watched The Wire and Breaking Bad recently and I have decided that neither show is better than the other, so now they will be tied for best show ever in the official Cosas Totum rankings. And if Jeremy Clarkson, James May, or Richard Hammond happen to see this, could they please tell Dominic West that his American accent needed a bit of work in season one of The Wire, but that Idris Elba's was so perfect that I didn't realize he was British until I saw him on a talk show discussing his appearance on The Office?
Breaking Bad: 9.7
The Wire: 9.7
Seinfeld: 9.0
Downton Abbey: 8.8
The Grand Tour Presents . . . Lochdown: 8.7
Last Chance U: Basketball: 8.5
The Office (US): 8.4
The Queen's Gambit: 8.2
Scrubs: 8.0 (which would be higher but that last season was so bad)
Parks and Recreation: 7.8
Operation Varsity Blues: 7.3
The Newsroom: 7.0
John Adams: 6.8
Tiger: 6.5
The Sons of Sam: A Descent into Darkness: 6.0
Firefly Lane: 5.5
Last Man Standing: 5.0
Weeds: 4.5
How I Met Your Mother: 4.0
Two and a Half Men: 2.5
The Big Bang Theory: 0.3