Yesterday a 22-year-old kid from Slovenia lived what so many children dream of: he signed a giant contract to play professional sports. Of course, that kid is Luka Doncic, and the 5-year, $207 million contract he signed with the Dallas Mavericks was the most he could possibly have been paid. "Today is a dream come true," was the first line of Luka's first post-signing statement, and his sentiment is echoed in the Mavericks' fan base as well.
In news that was somewhat overlooked by the Dallas media, the Mavericks also signed Tim Hardaway, Jr. to a 4-year, $72 million contract. THJ, as Hardaway is known, is a fan favorite and has, so far, turned out to be the most consistently good piece of the trade that also brought Kristaps Porzingis to the Mavericks. In addition to being a reliable scorer (16.6 points per game last season), Hardaway also has consistent floor rhythm and rapport with Doncic.
While Hardaway has not released an official statement regarding the new contract, given that he apparently could have been paid more elsewhere, it's safe to assume that he is more than happy with the new contract and with the prospect of spending the next few years at least with Doncic in Dallas.
Let's Go to the Blackfriar!
Seriously, you should go grab some drinks at the Blackfriar next time you're in Dallas. It's on McKinney Avenue not too terribly far from the American Airlines Center, though an Uber would be worth it.
But regardless of where it happens, let's celebrate! No one doubted that the Mavs would get Luka to sign a new deal and stay in Dallas, but it's still worth celebrating, right? I mean, every time you get in an airplane you expect to land safely at your destination, but that doesn't mean it's not worth celebrating a little when you touch down.* It's good that a young player with international appeal chose to stay in Dallas. And it's good that a veteran like THJ chose to stay with the young superstar. Hopefully Hardaway's willingness to stay and play with Luka will help draw other integral pieces the Mavs might seek to acquire in the future.
A quick anecdote: I went to Bonn, Germany for a study abroad in college. It was 2010 and the Mavericks were still a year away from winning the NBA Championship. I met with a lot of Germans (I'm a talkative Texan, Germany is full of bars, and like 99% of Germans speak English—I found a lot of people to talk to) and when they would find out I was from Dallas, I would get two questions: 1) Do you know Dirk Nowitzki? and 2) Who shot JR? Everyone knew Dirk. They knew neighborhoods in Dallas even though they had never been. They knew the names of the Mavericks' assistant coaches and European scouts. They asked if I had ever seen Dirk out in public. They asked questions about how I thought Dirk was getting along in Texas, even though by that point he'd been there for over ten years. The point is that they were obsessed with Dirk, and in being so obsessed with Dirk became fiercely loyal Mavericks fans.
Luka has that same power. Don't believe me? Have you seen this clip of a concert in Slovenia from a few days ago?
Incredible. People LOVE Luka, and who could blame them? Sure, he gripes at the referees too much, but he also does some pretty incredible things on the basketball court, so I get it. Luka himself is apparently very happy to stay in Dallas. "I am humbled and excited to remain in Dallas as part of the Mavericks and appreciate the support of my fans," he said in his post-signing statement. The Mavericks have a great opportunity to foster a career-long love of the organization like they did with Dirk. Luka's supermax contract was the next step in making that happen, to the benefit of every Mavs fan on Earth.
*That said, I still don't condone clapping when the plane lands.
October is Just Around the Corner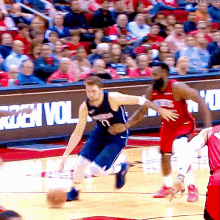 Mavs fans have a lot to look forward to this coming season. Having Luka and THJ locked down has to be a great relief to everyone within and without the organization. New head coach Jason Kidd, new GM Nico Harrison, and new VP of Basketball Operations Michael Finley should bring some excitement (and hopefully some stability, growth, and success) to the front office and court grand scheme. Second year player Tyrell Terry, who was something of a victim of Covid's impact on the 2020–2021 season, has looked good in the one summer league game he's played in so far this year and will hopefully be another bench player who will contribute bursts of energy in tight games. And, of course, everyone is eager to see how Porzingis will bounce back this season after what can only be described as a disappointing season last year.
Between how bad the Rangers are, how inconsistent the Stars are, and how crazy Jerry Jones is, the Mavericks will likely be the big ticket draw in the Metroplex for the 2021–2022 sports seasons. Only the future will tell us how all of these moving parts will wind up fitting together, but in the meantime it's safe to say that the Doncic and Hardaway signings are $279 million well spent.