You might remember that on Tuesday I provided a bit of a refresher on the classic MTV high school football docuseries Two-a-Days. That was put up in anticipation of today's review of the new Netflix high school football docuseries Titletown High, which comes from the mind of Two-a-Days creator Jason Sciavicco. In fact, Titletown High follows controversial Two-a-Days head coach Rush Propst at his second head coaching gig since being fired from Hoover High School for various personal improprieties all those years ago.
Coach Propst coached at Colquitt County (Georgia) High School for several seasons but was fired after the 2018 season, all of which was covered in Tuesday's article. Titletown High is similar to Two-a-Days in that it also covers a high school football team, also captures the angst and drama of high school students, also includes pop music that I don't recognize right off (even when I was in high school while Two-a-Days aired I didn't listen to much pop radio), and also includes its fair share of controversy. But how does Titletown High fair when compared to other sports docuseries such as Last Chance U, Hard Knocks, and even Two-a-Days? Let's find out.
But before we find out, I want to provide a caveat. I originally wrote an entire review as me, the 32-year-old lawyer blogging on the side, and it was not super favorable (more on that later). But then I realized that I am not necessarily the target audience, and that to provide an objective review of Titletown High I needed to put myself in a high school frame of mind. So here's what I did: I busted out a Rockwall High School t-shirt that for some reason I have, put on some music from my high school days (Nelly Furtado's "Promiscuous," Shakira's "Hips Don't Lie," James Blunt's "You're Beautiful," and Gnarls Barkley's "Crazy"), and tried to be angry, happy, confused, anxious, lovesick, angry, academically driven, angry, hungry, nervous, and angry all at the same time. It was…weird. I do not miss being 17, except for the ability to eat Wendy's three times a week and still dunk a basketball without breaking a sweat. Anyhow, once I put myself back in that headspace, I wrote a different review. This is the one that's represented here, but I'll sprinkle in some grown man thoughts, too.
Premise
The premise is simple: the 2020 football season for Georgia's Valdosta High School is documented from game one to the last game of the year. Football is about 70% of the focus, with about half of that centered on interactions between the players and Coach Propst and the rest on practices and games. The remainder of the series focuses on interactions between the players and other Valdosta High students as they navigate the murky, swirling waters that is adolescence. The primary players featured are quarterbacks Jake Garcia and Amari Jones, offensive lineman Jacarrius Peak, and defensive end/bona fide heartbreaker Grayson Leavy. The other high school students featured are mostly girls who have associations with one or more of the players, namely lovelorn academic Morgan Miller, quintessential high school girl Lenley Gross, and romantic underdog Zoey Watson.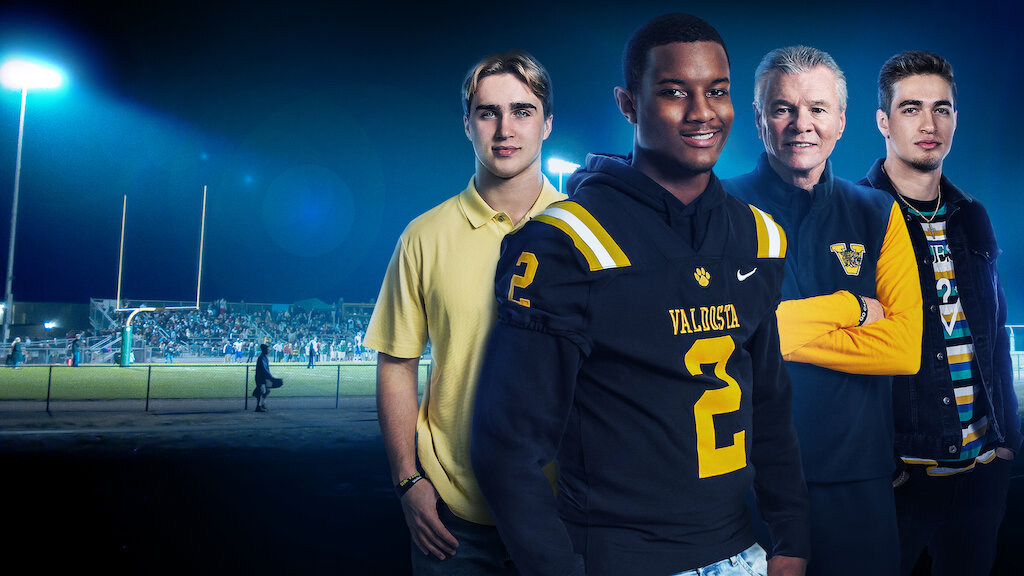 Of course, there are also adults who get screen time. In addition to Rush Propst there is Jake Garcia's dad Randy Garcia, Amari Jones's mom Robin Smith, and athletic booster Michael "Nub" Nelson, so called because he is missing his right arm from the elbow down. I promise I'm not being pejorative. That's actually what he calls himself. Nub, especially, is interesting because as head of the Touchdown Club, the Valdosta football team's booster club, he has a lot of influence over coaching personnel and team operations.
Titletown High covers the entire football season from just before the first game until the final postseason game (I won't give away how the season ends), and includes a little postseason drama as well. Ultimately subjects tackled include football, the position of priority football should have in a player's life, high school football recruiting, dating (and it's various subservient activities like "talking"), and the general drama of balancing football with academics and interpersonal relationships. Surprisingly, Covid doesn't factor in too much, with one notable exception that I will refrain from explaining because you just need to watch. That said, if you're worried that the entire series will be some epistle on Covid and/or how Covid should be handled, fret not. The primary focus is football and the kids and coaches on the team.
Summary and Review
Summary
I want to begin by again stating that this show is not necessarily aimed at guys in their thirties. I would imagine that, like Two-a-Days, the target demographic is kids around high school age, especially those involved with sports or involved with people who are involved with sports. I will tell you that the high school drama gets old as an adult. Sometimes you just want to scream at the TV, "YOU'RE IN FREAKING HIGH SCHOOL! IT IS VERY LIKELY THAT NONE OF YOUR BOYFRIEND-GIRLFRIEND CRAP OR ATHLETIC ACCOMPLISHMENTS WILL LAST OR EVEN MATTER IN FIVE YEARS!" But the enlightened adult in you should take a breath. Remember what it was like to be 16, 17, or 18. Everything feels heavy because the full weight of existing on this planet hasn't stooped your shoulders and jaded your worldview just yet. There is potential greatness in everything, and the corresponding sadness when that greatness isn't achieved is devastating. We've all been heartbroken a few times and know that you get over it eventually. But when you're in high school, that will absolutely crush your soul.
With that in mind, let me just put on my Old Navy graphic tee, put on Fall Out Boy, and let's summarize and review the show! The football coverage is good. It's not as in-depth as a show like Last Chance U or Hard Knocks where football is supposed to be the main (read: only) focal point. For instance, I don't think game footage ever exceeds about ten minutes per game. There might have been one opening kick shown, and generally the only plays shown are scores and turnovers. But that's okay. You must go into this show knowing that the high school drama is going to be a big part of the story. If you want football, watch Last Chance U. If you want a less sports oriented but more elevated dramatic show, watch Titletown High.
Speaking of drama, the show does a fantastic job of capturing that high school gravity. As I mentioned, when you're a kid, everything feels much more significant than it actually is. Don't go into some self-evaluating negative spiral, but just think back on high school for a second. Think back to a time when you were heartbroken. At the time it felt pretty bleak, right? But in hindsight you realize that it was for the best or that you were overreacting. It's great to be an adult because I can do pretty much whatever I want at any given time, but I've also been beaten down by the world just enough to know that the crap that happened in high school wasn't really that serious. There are two primary dramatic storylines involving relationships.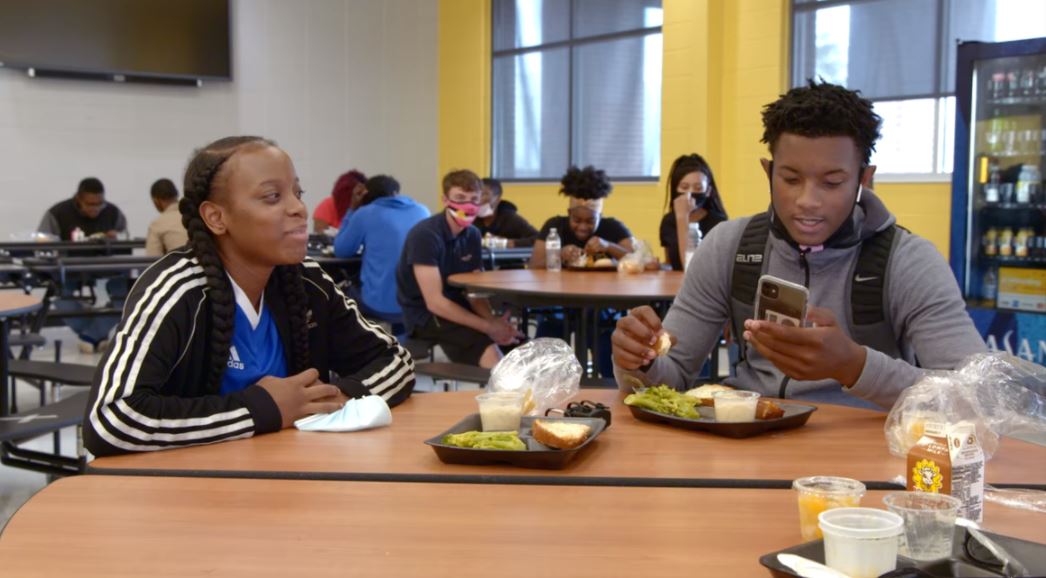 The first involves quarterback Amari Jones and his girlfriend Morgan Miller (pictured together). Morgan has one idea of how she should be prioritized relative to football, Coach Rush and Amari's mom Robin have a different idea, Morgan's mom has her own idea, and Amari…well, Amari doesn't really express his idea. It's interesting to watch how Amari, who clearly doesn't fully understand his own feelings on the issue, is pressured and persuaded to act certain ways by certain people in his life. In a way, Amari is the most adult person in the room because he appears to be prepared to listen to arguments on both sides and make an informed decision. But in reality my guess is that his feelings on the issue were more or less dictated to him. Either way what is clear is that Amari is cognizant of outside drama while he's playing football. If he wants to compete at the collegiate level, he'll need to learn (probably from someone other than Rush Propst) how to balance his personal/social/romantic life with his role as a football player.
The second dramatic storyline involved sophomore defensive end Grayson Leavy. When the show begins Grayson is interested in Lenley, a popular high school girl. They experience the bumps, bruises, scrapes, and drama of fifteen- and sixteen-year-olds in puppy love, made more complicated by Grayson's friendship with Zoey, whom he has known since elementary school. The show portrays Grayson as a somewhat self-involved, secretive, girl-crazy teenager, and he very well might be one. But then again, doesn't that describe most high school football players, especially those good enough to eventually start on a good varsity team as a sophomore? And judging by the fact that he never once drives throughout the show, I'm guessing he's fifteen and didn't even have a license, so his ability to contribute to a big-time team is pretty impressive. Either way, Grayson is not always forthcoming with Lenley, Lenley is threatened by Zoey, and Zoey does her absolute best to not let her true feelings for Grayson show. Eventually Grayson must make a choice between the declared girlfriend and the long time girl friend (note the space between the words).
There were two football-related dramatic arcs as well. The first comes early in the show and involves the eligibility of quarterback Jake Garcia. Jake moved from California, where high school football was completely canceled for Covid reasons, to Valdosta so he could play his senior year and hopefully get a scholarship. The Georgia High School Association ("GHSA"), which governs high school sports in Georgia, originally ruled him eligible to play at Valdosta. Then Jake, his dad Randy, and his mom Yvonne gave an interview to ESPN in which they basically said they took advantage of a loophole that allowed Jake to transfer to Valdosta without losing eligibility. The interview came to the attention of the GHSA, which reviewed and reversed its original decision and declared Jake ineligible to play. The Garcias, with the help of Rush Propst, appealed the decision, the final result of which you'll have to find out by watching. Regardless of the ultimate outcome, the Jake Garcia saga spotlights the difficulty of navigating high school and college in the Age of Covid, the loopholes that allow possible unsavory characters to bring big name recruits to public high schools, and how the best interest of the student-athlete is rarely protected by athletic organizations like the GHSA (or *cough cough* the NCAA *cough cough*).
And, of course, no Jason Sciavicco production would be complete without some Rush Propst drama. The second football-related dramatic arc involved Propst and his loggerheads with Nub Nelson (pictured below, left). Nub credits himself with bringing Propst to Valdosta. Of course, Valdosta was more or less Propst's third chance after his firings at Hoover (Alabama) and Colquitt County (Georgia) for personal and ethical issues. But Valdosta is a school with a long tradition of winning that had hit a slow spell beginning in the late-1990s, and I suppose Nub figured Rush was the man for the job. Apparently, though, Nub's slow drawl belies his cunning, and whether from clairvoyance or a personal CYA policy, Nub eventually began recording his phone calls with Rush. Nub held onto the recordings without telling anyone else about them until his disagreements with Rush boiled over. Nub believed Rush was trying to usurp his position as the head booster for the football team and was trying to find yes men and patsies who would test and possibly break the limits of law and ethics in bringing good players to Valdosta. In his calls with Nub, Rush mentions "funny money" and other buzzwords associated with the seedy world of illegal high school recruiting. He also accused Kirby Smart (head coach, University of Georgia) and Nick Saban (head coach and dark magic shaman, University of Alabama) of illegally paying players and offering benefits to the families of those players to get them to come to and remain at their respective schools. Ultimately Rush finally pisses Nub off enough to where Nub releases the phone calls and comes after Rush's job.
Once exposed, Rush is put on administrative leave, and in one of my personal favorite scenes of the entire show, has to explain what's going on to his wife and kids. Rush admits that the things he said "sound bad," but as usual refuses to accept the possibility that he might actually have been caught doing something wrong. Rush Propst is a flawed man and a philanderer, and as much fun as it is watching him fall from grace for the third time, I'm not sure how I actually feel about it. Nub comes off as a vindictive, blackmailing, scheming turd who was fine with illegal practices as long as Rush Propst answered to him. In fact, I would go as far as to call Nub a proper asshole. He's Friday Night Light's Buddy Garrity without the charm. He's Peter Pettigrew from the Harry Potter books (and not just because of the abbreviated appendage). He's Dick Chaney, Marcus Brutus, and Lady Macbeth all rolled into one person who I can't imagine would be any fun at a party. I don't want to call the man a coward because I don't know him or his life. But what I will say is that the recording of phone calls in which illegal activity is discussed and holding onto them until it was convenient for him is the act of a spineless leech. I firmly believe that people generally have a pretty good measure of what's right and what's wrong, and I firmly believe that Nub knew Rush's actions and words were wrong from the get-go. But instead of protecting the integrity of the football team, he decided to allow Rush's wrongness to stand as long as it was convenient for Nub. And sure, maybe as the person who claimed responsibility for getting Rush to come to Valdosta, there were elements of shame and pride on Nub's part. But a good man doesn't let shame or pride get in the way of doing the right thing. If it wasn't for the fact that Rush Propst has to be a hall of fame dickhead, I would say Nub is the biggest villain in the show.
Review
After a much longer summary than normal, let's get to the review. Ultimately, Titletown High is a good show worth the watch with the huge caveat that you have to be able to empathize with high school students. If you can't see things from the high school point of view, you're not going to like the show. There's not enough football and not enough of the Rush-Nub drama to make up for the angsty will they/won't they stuff between the students. It's not that the show is poorly done, because it's not. It's perfect for what it is: It's a sports docuseries that a high school jock can watch with his girlfriend and they'll both be interested in it.
Personally, I enjoyed it immensely once I understood that. Once I kind of "got" the show and what it was meant to be, I thought it was great. If you want pure football, watch Last Chance U. If you want pure teen drama, watch reruns of The Hills. But if you want something that is nostalgic and just sports-centric enough to cut the bitterness of what seems like immature drama, watch Titletown High. I hope there's a second season next year. If you watch the show you'll know that some subjects will not be returning. However, if you remember the second season of Two-a-Days, you'll remember that Jason Sciavicco and MTV did a masterful job of maintaining the balance of sports and drama in the first season while introducing new characters, lamenting the loss of old characters, and charting the growth of the returning characters.
I'm not going to rank this one relative to the other reviews we've done here at Cosas Totum. Instead, I'm just going to encourage you to watch the show. I think even if you don't like it you will be glad you watched it. If you're around my age, you'll be slapped squarely in the face with nostalgia. If you're a high school student, you'll get to experience the same sense of knowing the characters that I experienced with Two-a-Days all those years ago. And if you're over 45 or so? Eehhhhhhh, maybe it's not going to be for you, unless you have kids the same age as the main characters and want to get a glimpse into the drama of their everyday lives. The only people who I feel certain will not like this show are people over 60 and children under 10 or so. But for that middle, fifty-year demographic? It's definitely worth a watch.
Here's to a second season, and here's to always hearing Rush Propst say "BEAT THE PISS OUT OF 'EM" in your head when you're about to engage in any competitive activity.