Today is the first full Saturday of college football. Sure, last Saturday included a handful of games, but today is really when the season starts for most teams. Instead of providing some partisan preview of one single team or a way-too-broad blanket of coverage for the full lineup, I thought I would talk about my favorite part of football: food.
College football has the best tailgating of any sport. Indoor sports don't really have the culture, baseball tailgating is lame because there are so many games, and soccer tailgating just includes several people pretending to be physically hurt when they bump into someone on the way to the porta-potty. The NFL has decent tailgating but is limited because it's filled with fans who don't really have a connection with the team other than geographical proximity or some sort of I-root-for-them-because-my-parents-did thing. In college, however, generally a huge percentage of the fans are either current students or alumni and have some sort of deeper investment in the team. I know some of my favorite (albeit foggy) memories of my years at Texas A&M (Whoop!) included going to Midnight Yell then being at Kyle Field for the 11:00 a.m. kickoff because the team was terrible back then and played early. But the beer, the camaraderie, and the food combine to make for a fantastic way to spend a Saturday. We all know the tailgate staples, so let's rank the top ten.
10. Pigs in a Blanket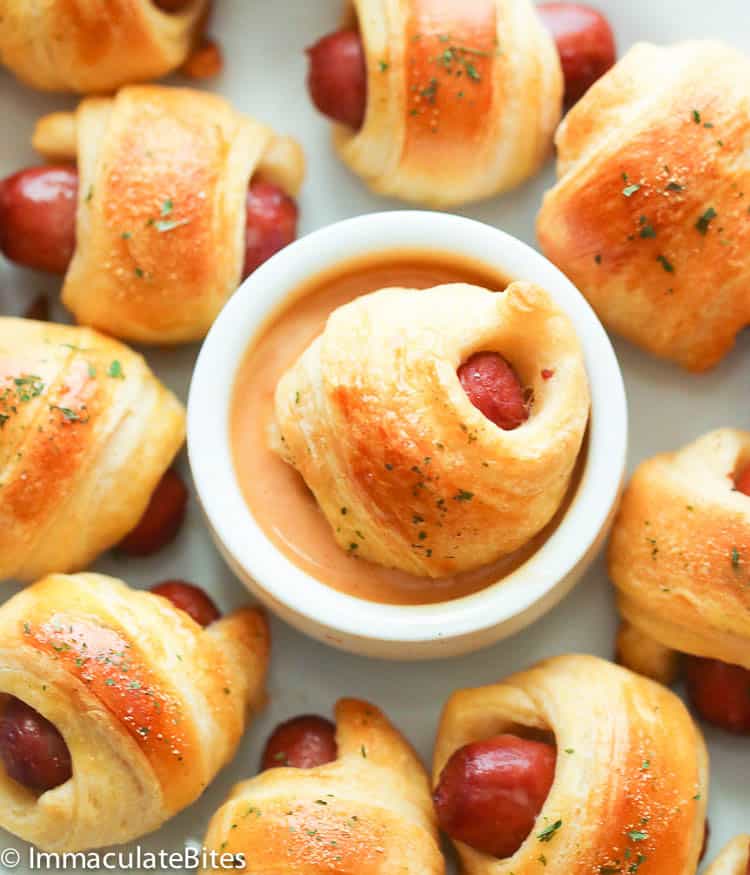 At number ten we have little bits of sausage wrapped up in delicious dough and normally served with some sort of dip (mustard, cheese, chili, etc.). These are most commonly seen at tailgates before early kickoffs, but the novelty of them makes them more desirable. Plus, for something mostly associated with breakfast, pigs in a blanket pair really well with cheap beer, and nothing says "tailgate" like a Busch Light at 8:30 a.m. Piggies are generally served in bite-sized portions at tailgates rather than the full-scale ones you might find at a doughnut shop, but that's okay. I like eating small food because it makes me feel like Andre the Giant or something, but I digress. As delicious as pigs are, they don't fit the mood for an afternoon/evening tailgate and the other items on this list tend to be more consistently better, so they're down here at number ten. That said, don't think for a moment that I won't kill a whole pie tin full of them before going hoarse at an 11:00 a.m. football game.
9. Hot Dogs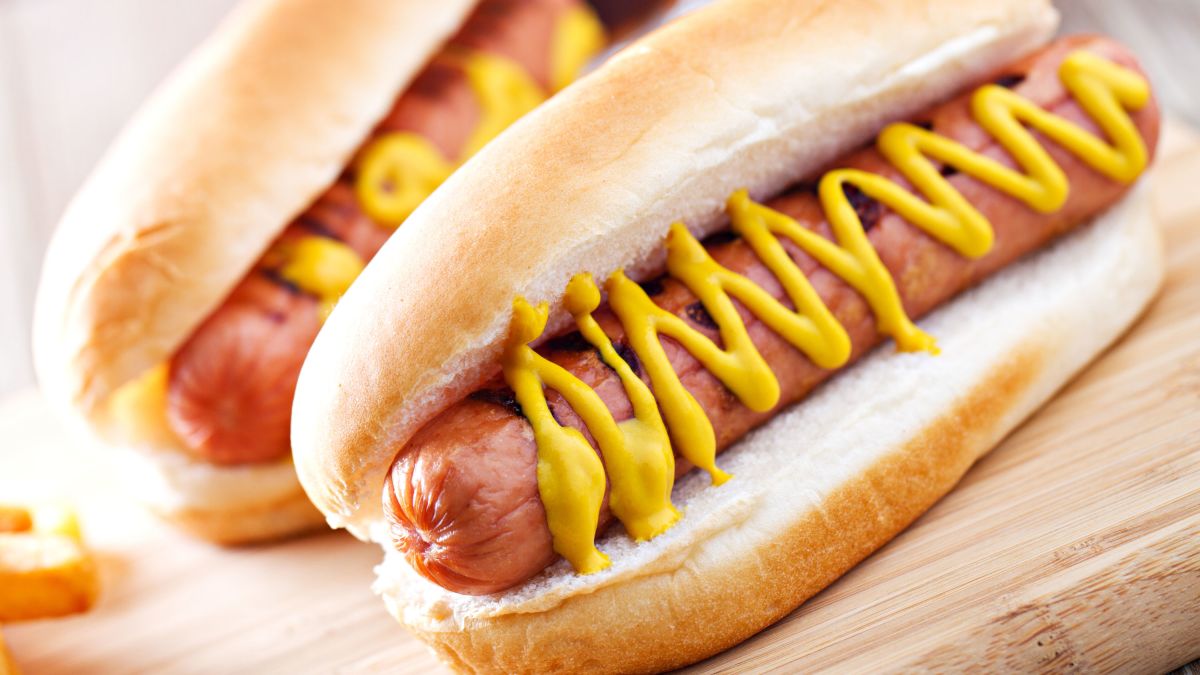 The lunchtime cousin of the pig in a blanket is the humble hot dog. Mystery bits of pig and cow blended together, stuffed in a casing, grilled until almost burned, then slid gently into a bun, covered in mustard and relish, and devoured. I love hot dogs. There's something so American about them, and football is a very American sport, so it all makes sense. They're almost the perfect tailgate food: they can be eaten with one hand, they pair well with Keystone Light, they cook quickly, and it's difficult to screw them up. I hate to see people putting ketchup on hot dogs because they're clearly a mustard food, but to each their own. The downside of hot dogs is that the ceiling for greatness is very low. The difference between the best and worst hotdogs you'll ever have is not huge. It's hard to make a hot dog bad, but it's also hard to make a hot dog great, so they are relegated to the nine spot here on our list.
8. Chips & Dip
Another food limited by it's own regularness is chips and dip. Look, I grew up here in Texas so I LOVE chips and dip. Queso, salsa, French onion dip, buffalo chicken dip, guacamole, ranch, 3-, 5-, or 7-layer dip, and even just a big ol' bowl of warmed Wolf brand chili; it's all good. But at the same time, dips don't always hold well for a whole day, especially queso and guacamole. And people always skimp on the chips. If you're going to get tortilla chips, your best bet is to either go to a Mexican market to buy theirs or to buy some corn tortillas and make your own. If you're getting potato chips it's tough to find one that is good on that many different dips, so sometimes the chip/dip combination is lacking. The other problem with chips and dip is that it's difficult to situate. I mean, very few people are going to have a bunch of bowls, but you also don't necessarily want to just slather your chips in whatever dip is available. But it's also hard to scoop dip off a flat plate, and it's inconsiderate/a health hazard to just stand by the communal bowl and use that. You definitely don't want someone double-dipping. The day someone sells a paper plate with a true bowl built into it, the chips and dip game will improve mightily.
7. Tacos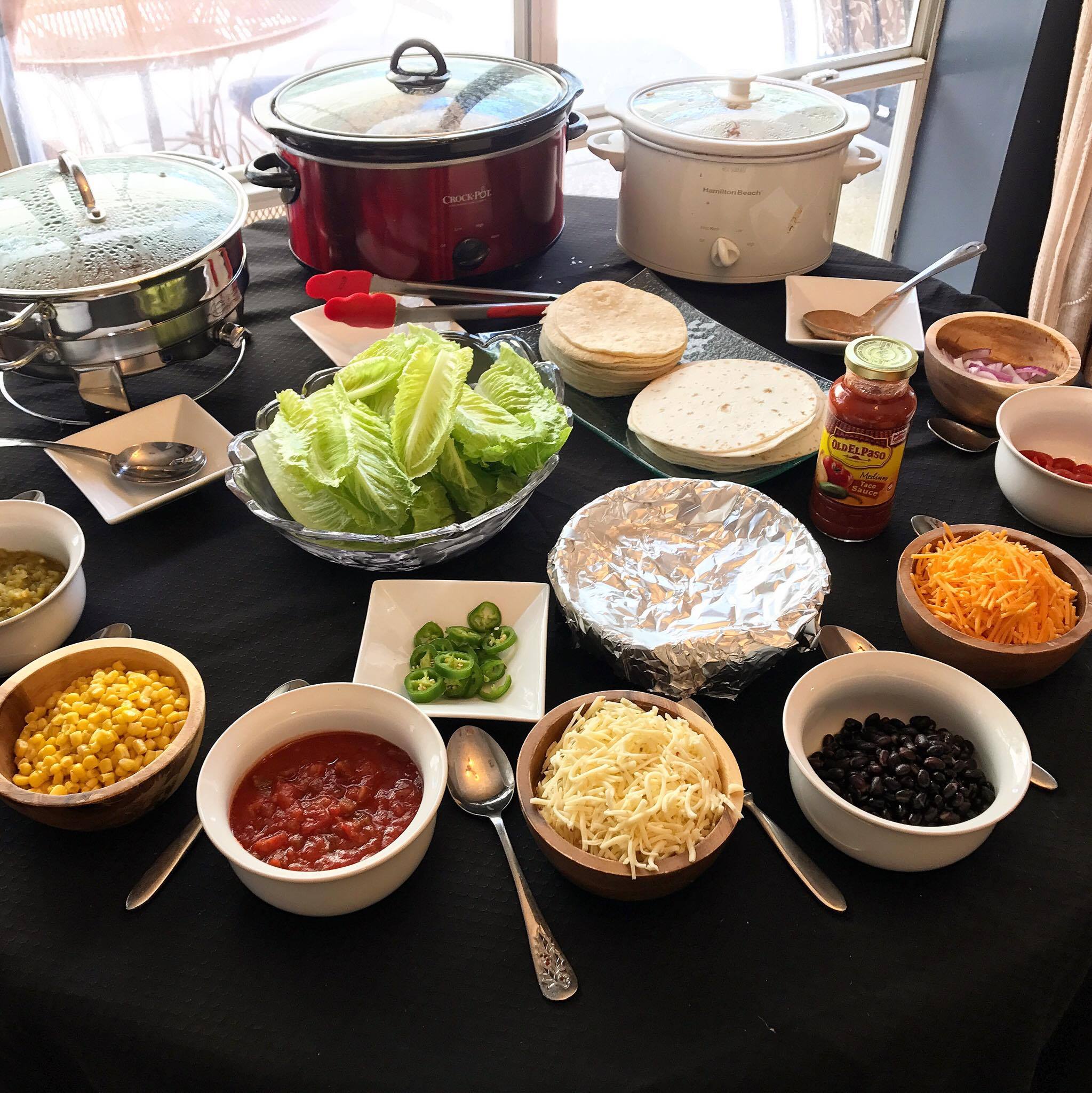 I want to reiterate that I am Texan so I will absolutely throw down on tacos. But like chips and salsa, tacos can be difficult to do in a tailgate setting. For one thing, it can be a pain in the ass to have all the fillings/toppings just sitting out on a picnic table in the heat. For another, tacos can be messy. For yet another, tacos are best when the tortillas are homemade and freshly warm, so those Mission brand tortillas or El Paso brand taco shells ain't gonna cut it at a tailgate. Tacos are also labor intensive for the tailgate hosts. It's cooking meat, warming tortillas, slicing veggies, keeping the cool ingredients cool, and then cleaning the many, many dishes it takes to serve tacos. The upside of tacos is that they are delicious and infinitely customizable so you don't have to worry about offending anyone's culinary sensibilities. Tacos are also elevated by the presence of tequila, and in my experience tequila at a tailgate is a recipe for a head injury or passing out before kickoff. It is tough to beat a good taco, though.
6. Chili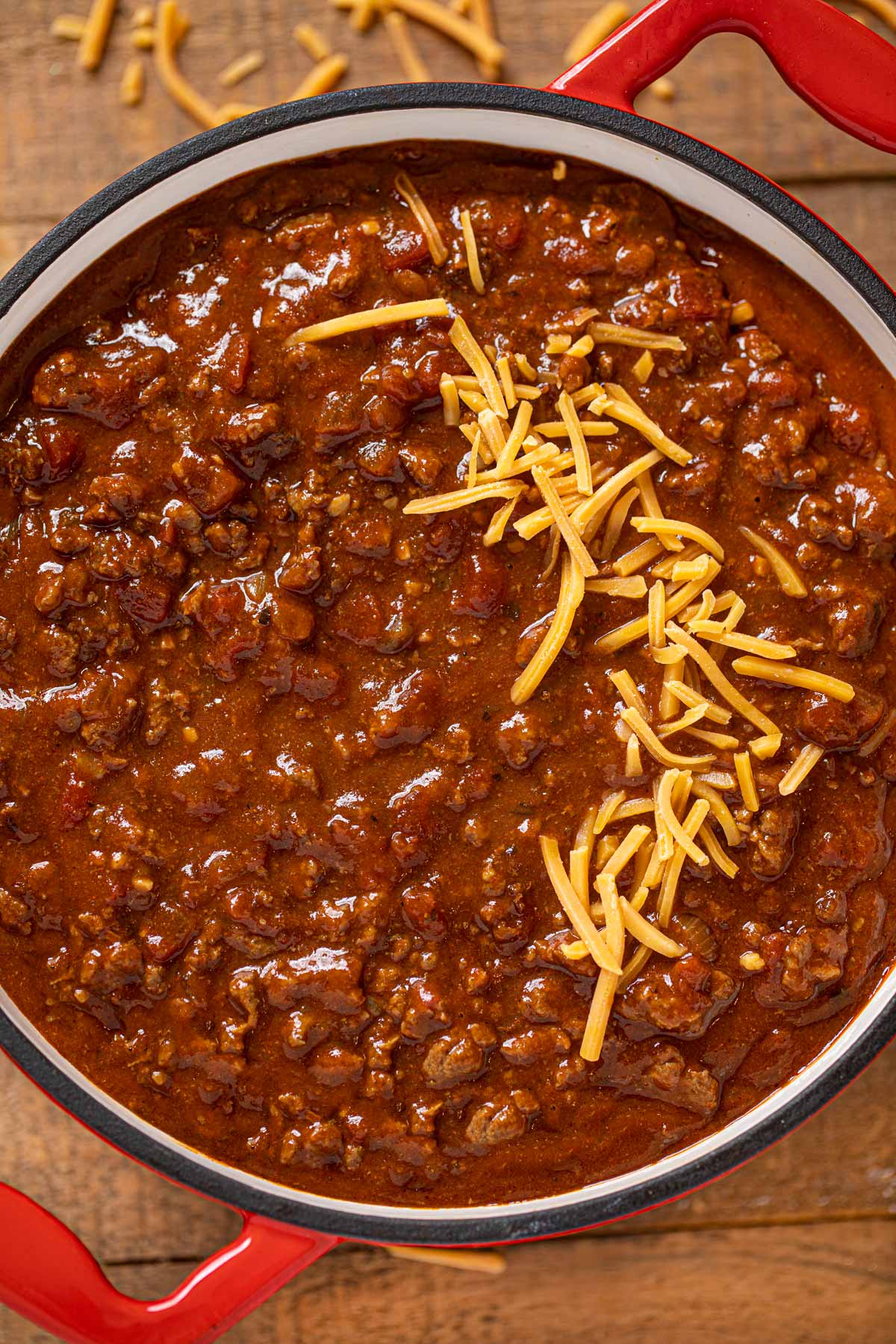 Upsides to chili: easy to make a lot of, easy to transport, minimal dishware/cutlery needed, minimal toppings/fixings needed, cheap. Downsides to chili: difficult to please everyone flavor-wise, could lead to long lines at the porta-johns, normally must cater to the person who least likes spicy food, absolutely devastating when you spill a whole pot of it, chili farts in the stadium could possibly distract players. The other major downside is that chili is generally a cold weather food, so the further south you go, the fewer games will be chili-appropriate. It was normally November before it was cold enough to really enjoy chili when I was in college. No one wants to eat a hearty bowl of spicy meat when it's 103°F at kickoff. That said, chili is delicious and on those cold games it can really help warm you from the inside out. Perhaps if I had gone to school at a Big 10 school rather than a Big 12 school (I'm old enough to predate A&M's move to the SEC) I would have chili higher on the list. As it is, it will hover here in the middle. I would be remiss if I didn't mention that real chili does not have beans. If you come to Texas with that bean and meat stew and call it chili, you better be able to run faster than the least drunk Texan at the tailgate.
5. Mac and Cheese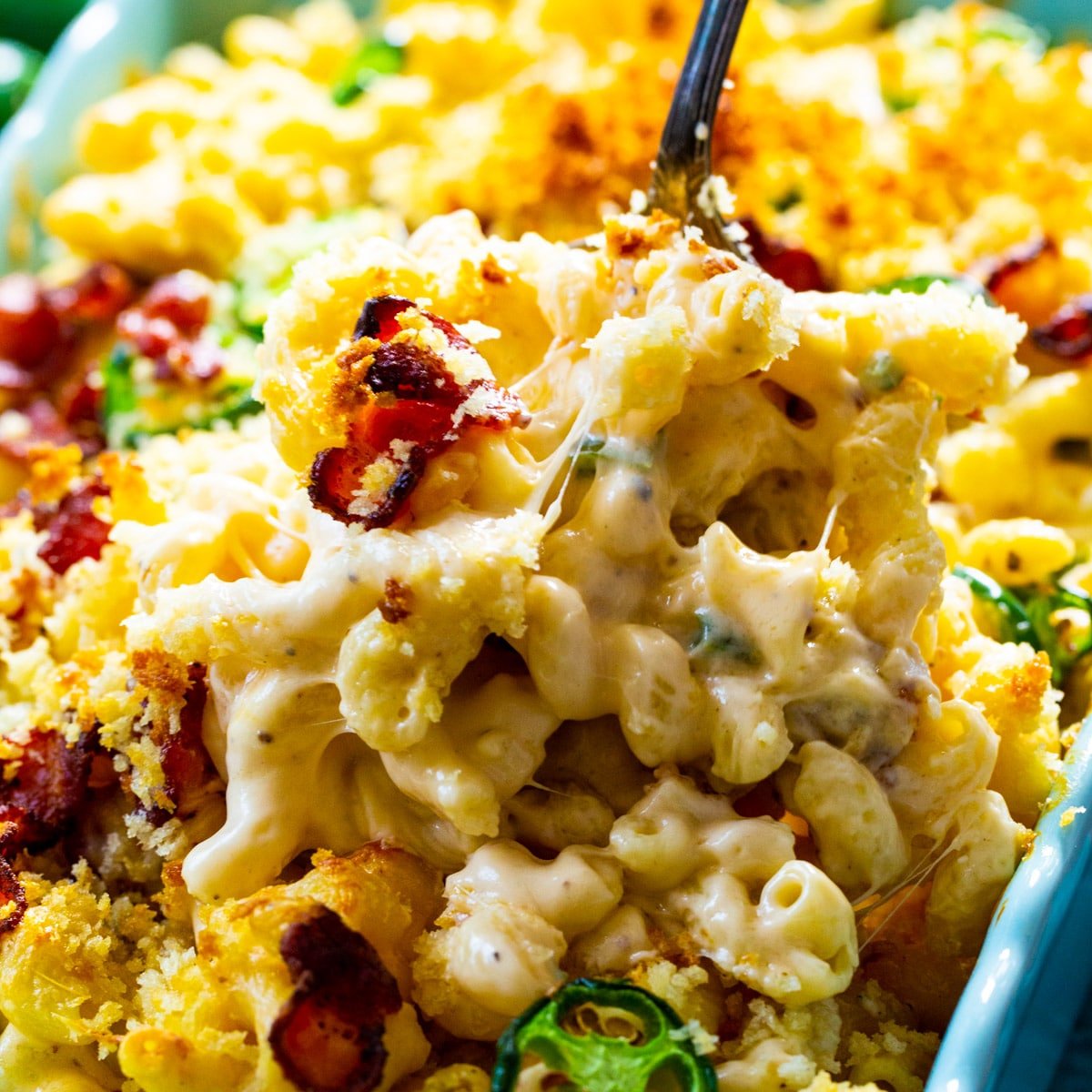 When I say "mac and cheese" in the sense of a tailgate, I'm not talking about a box of Kraft. I mean something that someone slaved over, making the sauce homemade with a roux, adding meat and jalapeños, using several types of cheese, topping with bread crumbs, and baking or smoking until everything comes together in an aluminum pan of pure awesomeness. True story: I once saw two grown women have to be physically separated at a tailgate because one refused to give the other her mac and cheese recipe. This isn't the kind of thing you serve on the side. It's its own meal. And it's super easy. It holds well, it's easy and cheap to make a lot of, it requires minimum cutlery and cleanup, and you can make it ahead of time instead of worrying about getting it on the grill at the stadium. Honestly I wish I could rank mac and cheese higher, but the problem is the rest of this list is positively divine.
4. Nachos
What are nachos but chips and dip made more convenient, right? Nachos are great because there are a million ways to make them delicious. I have had buffalo chicken nachos on fried potato chips, I've had traditional bean, meat, and cheese nachos, and I've had everything in between. Nachos are best when it's chips topped with things, covered in cheese, and baked or smoked to gooey perfection, but it's also nice to take loaded queso, pour it over a bunch of chips, and go to town. The downside of nachos is that if you make a huge batch, it's tough to please everyone so generally you'll make them pretty bare-bones, which means if you want other options you're going to have to cut a bunch of veggies and use a bunch of serving dishes so people can customize accordingly. The good news is that nachos are dirt cheap to make and can feed a lot of people. It's also really easy to regulate your own intake so you can make sure not to eat too much before standing out in the sun for several hours.
3. Sliders/Burgers
I went back and forth on whether these should be two different options. On one hand, sliders can be anything. I've had buffalo chicken sliders, ham and cheese sliders, pulled pork sliders, Thanksgiving leftover sliders, and even pad Thai sliders, which were, by the way, incredible. But the most typical sliders are basically little hamburgers, so I decided to lump them in together. Burgers and sliders are nice because they are cheap and easy. In many ways they suffer from the same low ceiling as hot dogs, but at the same time it's also way easier to customize a burger and there are more widely-used toppings and condiments such that they feel a little more personalized. The major downside is that they're labor intensive so it's tough to do burgers beforehand. If you're doing to do burgers/sliders, you're going to have to be at a tailgate spot where you have access to a grill. But it's easy to put lettuce, tomatoes, pickles, onions, condiments, and warmed buns on a picnic table and just let people go. They can be eaten with hands with minimal mess, and they also pair well with everything from Dr Pepper to Shiner Bock to an earthy merlot. Burgers are about as classic as tailgates get, so you had to know they'd be pretty high on the list.
2. Chicken Wings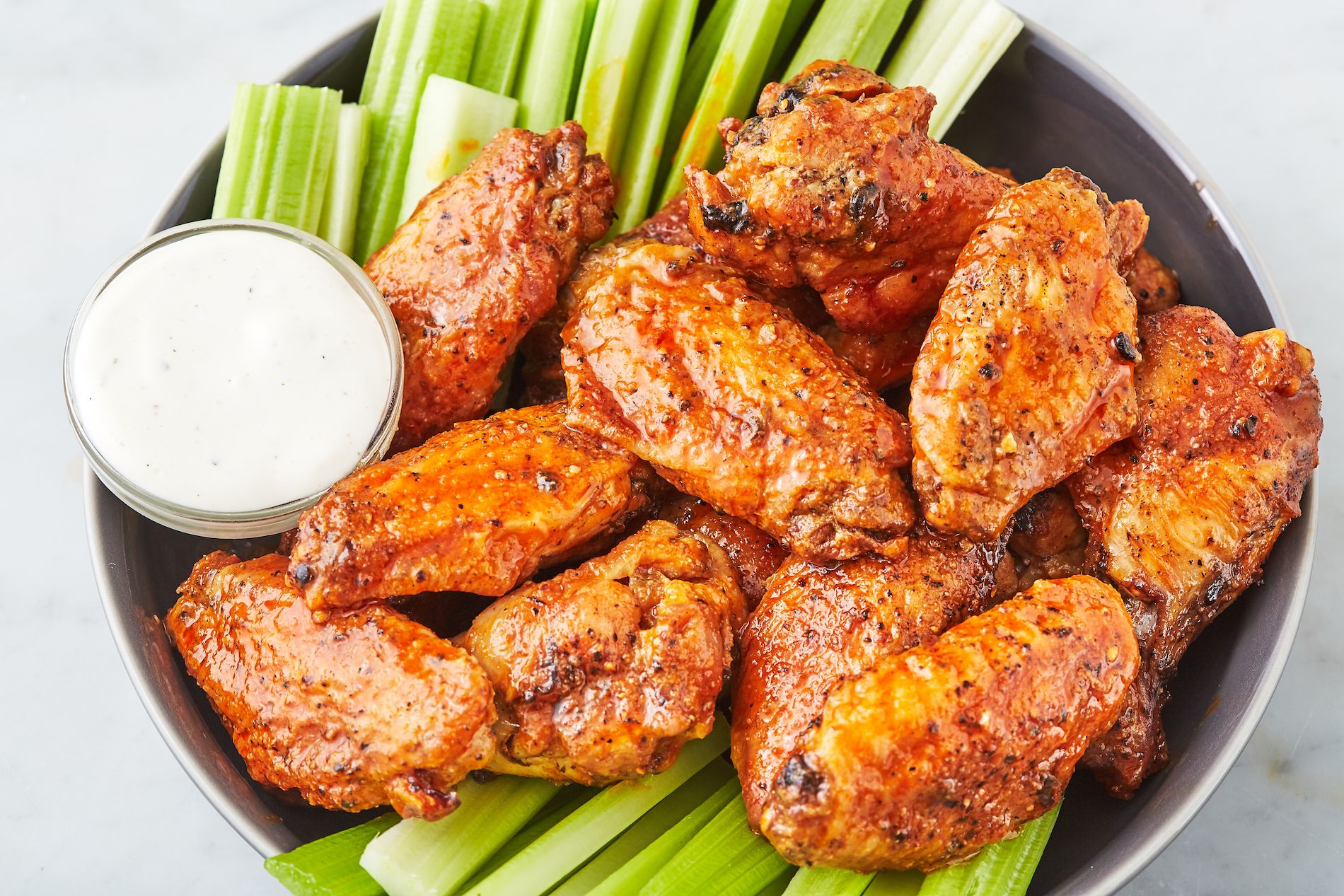 Wings are another tailgate staple. I would bet that 90% of all tailgates I've ever been to have had wings. Sometimes they were bought in bulk from Hooters or Buffalo Wild Wings or Wing Stop and brought in, other times they were grilled on site. Wings can be fried or grilled or baked or smoked or cooked in many other ways, and they can be tossed and seasoned however you'd like. Classic buffalo, parmesan garlic, lemon pepper, or even just a little salt and pepper…you can't go wrong. They are messy, but the cleanup is a breeze, it's easy to make a lot of, and the sides are normally minimal. Ranch dressing or bleu cheese, some sliced celery, and plenty of potato chips make wings a great tailgate food. The problem now, of course, is that the price of chicken is skyrocketing because of Covid, and chicken normally goes up during football season anyway, so wings can be expensive for what you're getting. The other problem is that you're going to have to have some wet wipes on hand because there's no way people aren't going to have an orange ring of buffalo sauce around their lips if they eat wings all afternoon.
1. Barbecue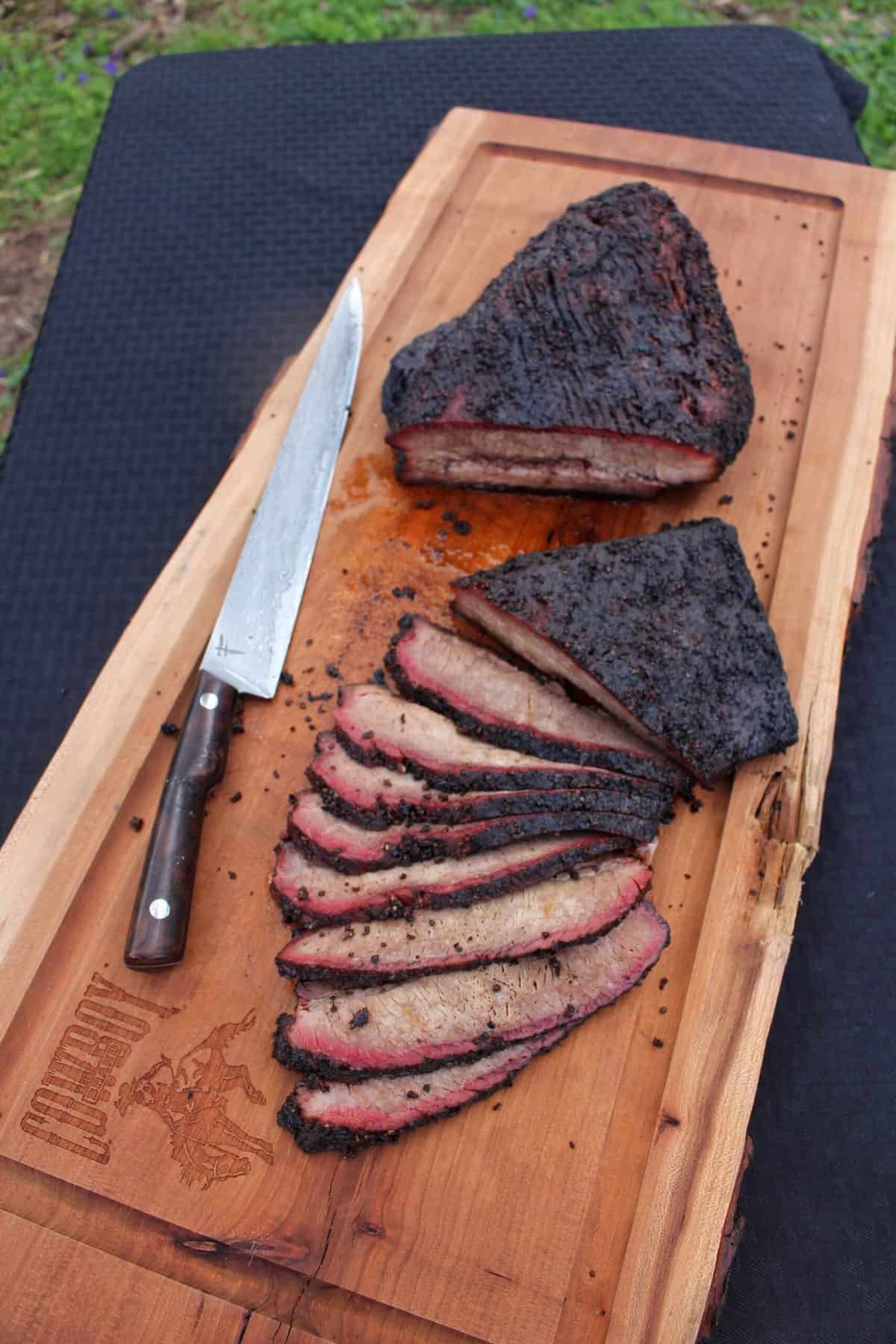 Oh, man. I love barbecue. And I mean barbecue-barbecue, not burgers on a charcoal Weber grill. I mean brisket, pulled pork, ribs…big slabs of meat cooked low and slow until they're fall-apart tender. Texas is brisket country, so I have eaten many, many pounds of brisket while tailgating. And it's great because you generally cook it ahead of time and there is literally no side dish on earth that doesn't compliment barbecue. Mac and cheese, mashed potatoes, chips and salsa, asparagus, mixed veggies, the classic slice of white bread with a hunk of yellow cheddar, or literally anything. I bet you could serve stuffed pasta in marinara or some sort of curry and it would be great with barbecue. Cleanup is normally easy, especially in Texas where good brisket doesn't need sauce. And while barbecue meat can be expensive, you can also generally serve a lot of people with what you get, so at the end of the day it's still pretty cheap. Holy crap. I've gotta quit typing before I go cook everything in my pantry.
Happy college football season, everyone! Go out and seize the day by eating unhealthy amounts of fatty food and drinking unhealthy amounts of delicious alcohol! And whoever your root for, I hope they win today, unless you are rooting for Kent State.
Thanks and gig 'em.