Happy Friday, everyone! I'll be on the road and out of town for the weekend so you may see some archival posts tomorrow and Sunday, but as I'm going out of town for a golf weekend I thought I would just share my checklist with y'all so you can have something handy next time you have a golf weekend with your boys.
Must Haves
These are the items you have to, have to, HAVE TO have with you when you head out for the weekend. These are not optional.
1. Golf Clubs
Sort of feel like this shouldn't need explaining, but just in case I'll go for it. You need your golf clubs (and the fodder that goes with them like gofl balls, a glove, tees, range finder, bottle opener, etc.) because…you…can't play golf without them. I've tried. It can't be done. Sure, on Tin Cup Kevin Costner played with a shovel, a baseball bat, and a garden rake, but he was a scratch golfer in real life pretending to be a better-than-scratch golfer in the movie, so he's allowed some further experimentation than you or I might be. (Warning on the video: there's some NSFW language and some terminology that is pretty homophobic, but try to remember it was the 1990s)
2. Beer
You know that line in Forrest Gump about going together like peas and carrots? Well had I written the movie, it would have been "we go together like beer and golf." Of course, I was five years old when Forrest Gump came out, so at the time I might have actually used peas and carrots. But the point is a golf weekend is nothing without beer. The key is to bring the right beer for the job. For the actual golf, you probably want something smooth and easy like Miller or Coors. But for the post-golf (or pre-golf) you gotta go with something better. Maybe a local IPA or a nice lager. My golf weekend is in Austin, and there's no shortage of great beer to be consumed in Austin, so I like our chances of a good time. Also, since I'm going from North Texas I will probably just buy beer on my way down there instead of keeping it cold the whole trip because I actually have some work to do in Austin before the fun begins. Bonus points if you pull off this classic John Daly move.
3. Music
I don't necessarily mean for the course. I'm indifferent on music being played while I play golf because I'm there to focus on the golf and not the music. But you have to be prepared to step up and be the group DJ if called upon by the other members of the party. It doesn't matter what the medium is. Spotify, Pandora, Apple Music, or just your iTunes library…you just have to be ready. The key is to know your audience. Contrary to what people might think, it is possible to make a playlist that will be inoffensive (if not strictly awesome) to everyone in a group. You just have to know who will be there and what the common denominator is. Luckily all of my friends have a pretty eclectic taste in music so it's easy for me, but I have been in situations where finding the perfect playlist was a little like a puzzle. But the rewards of universal enjoyment are worth the effort. All that said, as much as I do like this photo I highly doubt Daft Punk will make an appearance on our playlists.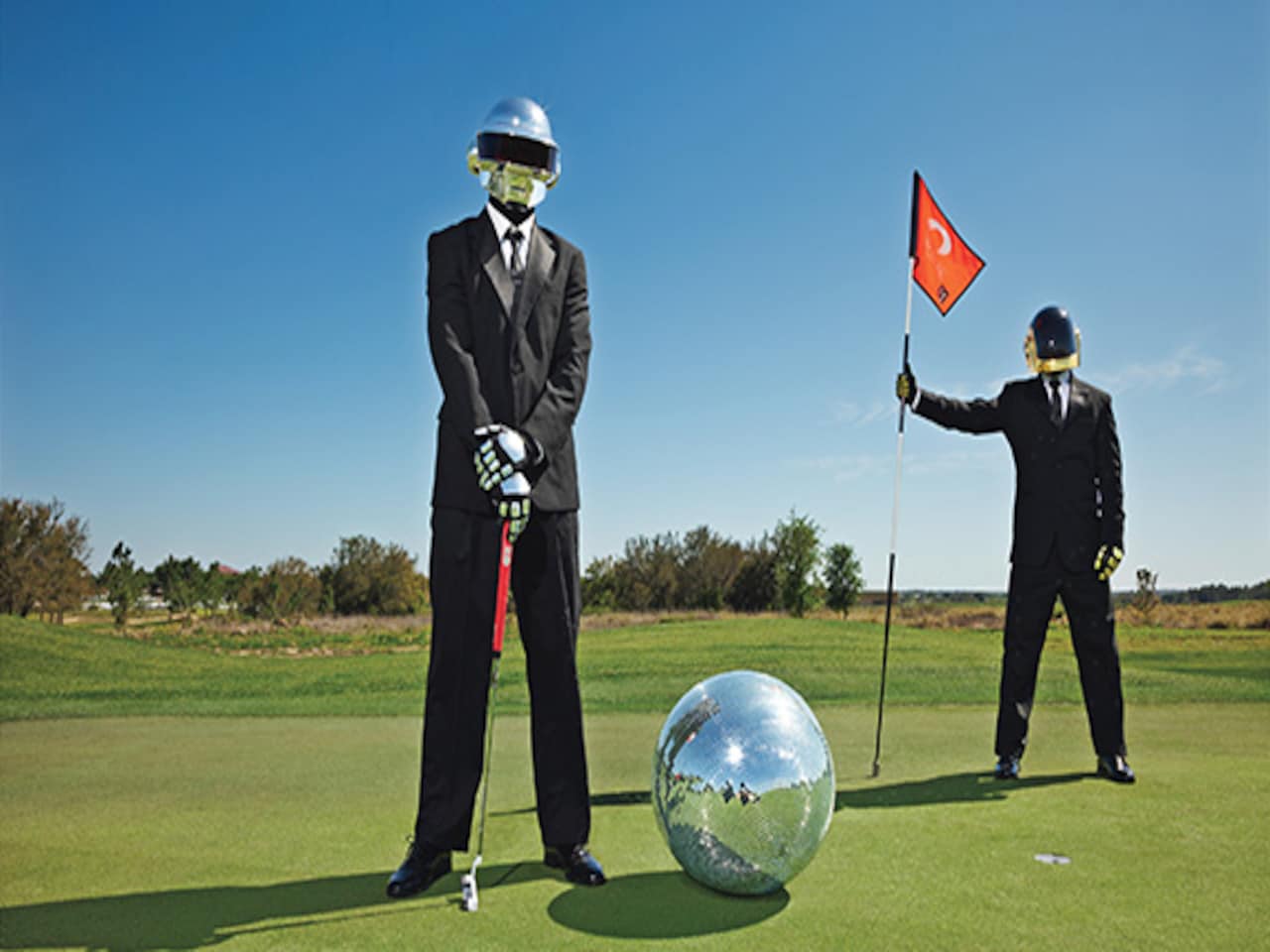 4. Money
One great thing about #TheBoys is that everything should be simple. Take turns buying rounds, make sure the host doesn't have to pay as much, offer to pick up snacks, etc. Cash isn't necessary so much because of the advent of apps like Venmo, but still, you need to be sure to have money so you're not just mooching on people. Here's a classic tale of #TheBoys just being laid back about things: In law school my now business partner and I went to lunch at least once a week for at least a year and a half. We took turns paying, and it's entirely possible that on the first day back from Christmas break or summer or whatever that one of us paid twice in a row. But it didn't matter because the camaraderie is the important thing, and being able to do something enjoyable is WAY more important than exactly how much money is spent. So as in addition to money you need to bring the right frame of mind, which is that whatever you spend will be worth it for the opportunity to hang out with your friends.
Optional Items
These are items you might consider bringing but are not necessary:
Cigars;
Group t-shirts;
Novelty gifts;
Musical instruments;
Hometown gossip;
Funny nostalgic things;
A nice bottle of liquor;
Homemade snacks; and
Prank exploding golf ball for the guy in the group who doesn't play much.
Do Not Bring
These are the things you definitely do not want to bring.
1. Too Many Work Stories
I get it. I love telling work stories. But it's easy to go overboard and it's easy to forget that not everyone finds what you do interesting. I love reading and writing contracts, but to most people that's super boring and no one wants to hear about it. Look, if someone else is telling a story and you have a work story that is directly related in some way, go for it. Or if you have a work story that is so outrageously funny that the work part of it is just tangential, that's fine, too. But don't tell any stories that involve too much backstory about coworkers, and don't exclusively bring work stories. Bring stories from other facets of your life.
2. Unexpected Guest(s)
There is a caveat to this rule: If the guest is one of #TheBoys, then go ahead and bring them because that would be a fun surprise. But if the guest is anyone else (random friend from a different friend group, wife, girlfriend, etc.), then forget it. This weekend is about #TheBoys and #TheBoys only. And #TheBoys aren't taking applications for new members.
3. Anything Requiring Special Storage Circumstances
Have you ever had this happen: Someone is coming to stay with you and they bring a HUGE food item that has very specific storage needs? Or maybe a cumbersome piece of furniture or equipment that for whatever reason can't stay in your car? Or maybe an uninvited animal? Or maybe a desktop computer? Or maybe a heavy bag? Literally all of those things have happened to me as a host, and it sucks. Don't burden your friends with weird things that require inconvenient storage. Don't bring a freaking heavy bag with you. What are you gonna do, some light sparring in between rounds of golf? Please.
4. A Bad Attitude
Come on, man. We're all adults with responsibilities and this weekend is supposed to be a release and reprieve from all that crap. Don't come with some weird emotional baggage. Just bring some beer and a good frame of mind. And your golf clubs. Never forget the clubs.
Hit 'em straight, and be sure to hydrate because hangovers in your thirties are a lot worse than the ones in your twenties.