Welcome to the eve of televised sports greatness. Every year for about two or three weeks, the NFL, NBA, NHL, and MLB are all televising games at the same time. It's magical. Tomorrow the 2021–2022 NBA season begins with a national TV doubleheader beginning with the Brooklyn Nets vs. the Milwaukee Bucks, followed by the Golden State Warriors vs. the Los Angeles Lakers, each of which can be found on TNT. Baseball is winding down, football is in full swing, hockey is just gearing up, and with the NBA season opener tomorrow, some of the best sports watching days of the year are upon us.
Ain't It Grand?
Of course, that's just the pro sports. College football is also going on, which means that for the next couple of weeks you are guaranteed to have something to watch each day of the week. That is so rare. And summer can get a little weird, can't it? I mean, baseball is the only sport on, and while there are a lot of games, it's not the same. For one thing, if you don't have DirecTV or AT&T there's a good chance you can't watch your local baseball team because Bally Sports, YouTube TV, and Hulu are being dicks right now. For another, if your team is anything like the Texas Rangers, they were difficult to watch this year because of how bad they are. Additionally, there weren't that many nationally televised games, so watching out-of-market baseball was difficult unless you had some special TV package that allowed you to do so.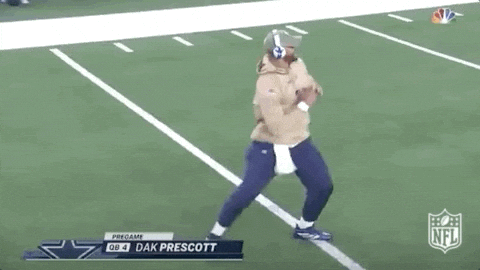 But for the next couple weeks everything comes together. There is a variety of options because at least four different sports will be on during the week. There many nationally televised games because the NBA has its deal with TNT and ESPN, and playoff baseball is going to be on the big networks. It's just so nice to know that literally every day over the next couple weeks will feature at least one good option for watching sports. It so rarely happens. It's just…so great.
How to Enjoy the Great Sports Overlap
You can enjoy the Great Sports Overlap in three simple steps:
1. Get Access to a TV
Simple enough, right? It could be anything. Cable, satellite, streaming TV service, or even a bar with at least one television.
2. Amass Provisions
Food and drinks, in other words. Pizza and beer? Great call, but probably not every night. Be sure to mix in some veggies and water. Personally I like going with some cucumbers, cheese, hummus, and pita, served with some cucumber water. Don't get me wrong, pizza and beer is clearly better, but you gotta worry about your ticker if it's nothing but grease and alcohol for a few weeks.
3. Get Comfortable
Wherever you enjoy the Great Sports Overlap, you should be comfortable. If it's at your home that probably means your favorite chair or couch or bed or whatever. If you're not at home, then it's up to you to find a comfy spot. For me, barstools aren't comfortable after about an hour or so, which means I have to either find a bar where I can sit in a chair with back support, or find somewhere with lounge chairs. Mostly I just stay home. Cheaper drinks at home, ya know.
The long and short of it is that these next couple weeks are great if you're a sports fan. Playoff baseball is always fun, hockey is great, the NBA is mostly fun, and the NFL is normally entertaining. I'm just ready to kick back and relax, and even though it's only Monday I think Monday might be the day we need to relax the most. But that's just me. Happy watching, sports fans.