Tonight at 6:30 p.m. Central the 4-2 Dallas Mavericks face off against the 5-1 Miami Heat. Dallas has started the season sluggishly after a great pre-season, and in fact has started each game slowly in a way reminiscent of the old Don Nelson Mavericks of the early 2000s. So far this season the Mavs have won games against the Sacramento Kings (3-3), San Antonio Spurs (2-5), Houston Rockets (1-5), and Toronto Raptors (5-3). The Raptors were 1-1 when they played the Mavericks and started the season 1-3 before winning four straight to get to 5-1, so while they might be a good team now, they did not look like one against Dallas.
That means that only one of Dallas's four wins has come against a team that is currently above .500, which is concerning considering the promise the Mavs showed in the preseason and the high level of competition in the West this year. The two losses have come against the 4-3 Hawks and the 4-3 Nuggets, both of which look better than their records reflect but neither of which look as good as the Miami Heat. So that begs the question: Can the Mavericks beat a good team?
Personnel Issues
There are two elephants in the room on the Mavericks roster at this moment: Kristaps Porzingis and Dwight Powell. Let's start with the Unicorn.
The Mavericks' Unicorn in the Room
Porzingis is a physical freak. He's 7'3″ but moves like a much shorter man; that is, until he doesn't. Everyone knew KP has some injury issues, but Mavericks fans are understandably getting impatient at how infrequently he's been an honest-to-goodness contributor on this team. Even in the three games he's played this season he hasn't cracked 20 points and only grabbed 10 rebounds once, having had five and three rebounds in the other two games. That's unacceptable for someone has freakishly athletic as he is.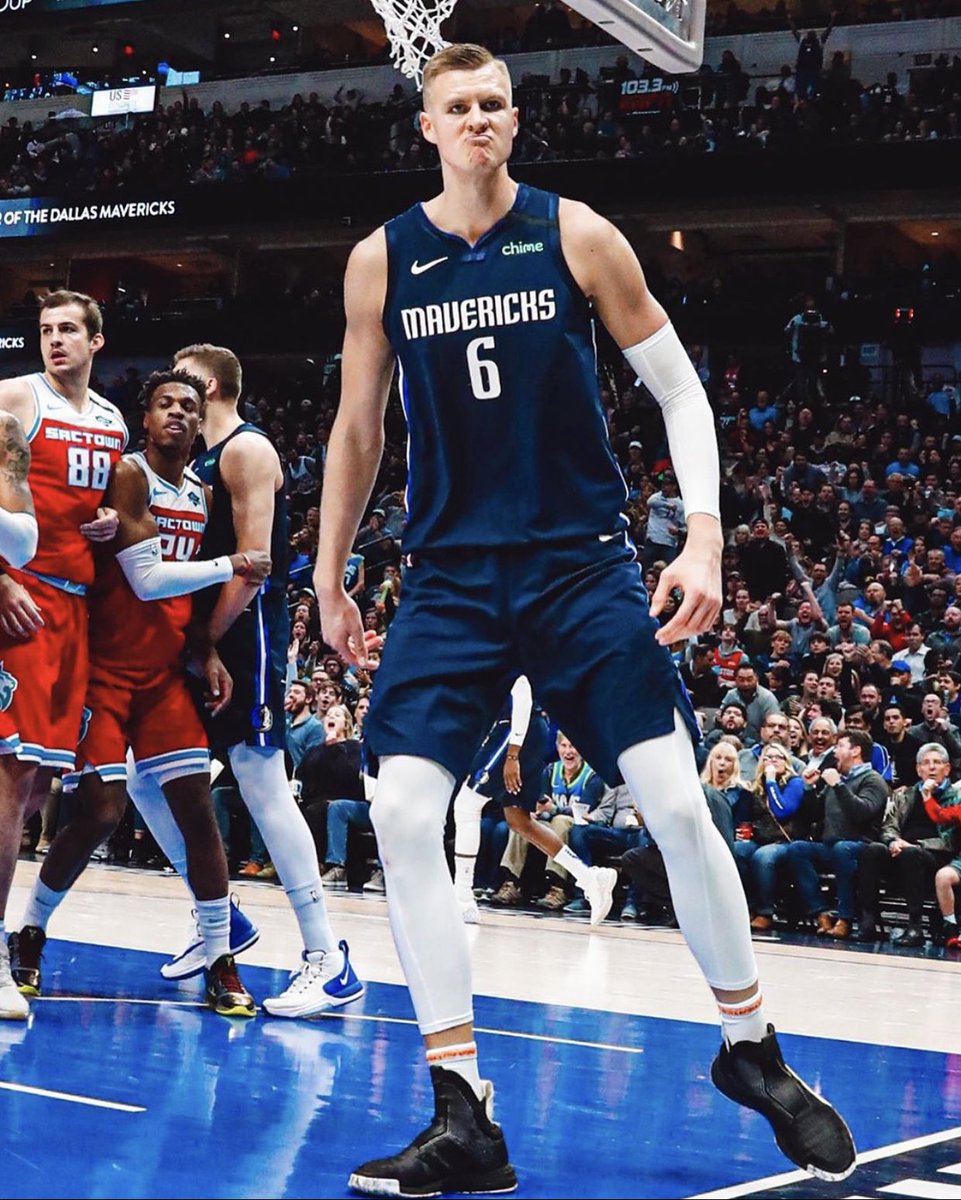 Porzingis looked great in the preseason games. He was playing a style that was more aggressive but also smarter than last year, taking midrange jumpers and creating more rather than standing on the three-point line waiting for someone to feed him. But then the regular season started and he was back to the timid Unicorn we remember from last year. After the game against the Hawks, KP had some back soreness and will not play for the third consecutive game tonight. At some point the Mavericks' front office is going to have to figure out what to do about him, because he's looking more and more like a lemon.
And I for one hate that. I really, really like Kristaps Porzingis. Especially early in his Knicks days, he was one of my favorite players to watch. Blocking shots, taking dudes off the dribble, hitting threes when he needed to…he was like the athletic version of Nikola Jokic, but with a bit more shooting touch and a slightly less developed passing game. But last year was disappointing, the year before that was disappointing except for a brief shine in the playoffs, and this year, so far, has been disappointing. I know it's a small sample size, but these questions need to be answered and given KP's track record, these questions need to be answered sooner rather than later.
I hope Porzingis comes back healthy soon and that this article completely blows up in my face, but I doubt that will happen.
Hustle Without Result: The Dwight Powell Story
In the interest of being concise I'm going to be blunt: Dwight Powell has been terrible six games into this season. Dwight Powell has started all six games this year and is averaging 8.8 points and 3.8 rebounds per game with a plus/minus of -6.7, which is…not what you want in a starting big man. He's also averaging 1.2 turnovers per game, but in watching the way he plays you can see several instances when he has caused inefficiency, bad shots, missed rebounds, missed opportunities for forcing turnovers, and occasionally even just looking lost on the floor, and they don't have statistics for those things. Dwight Powell is not the caliber of player that Luka Doncic is (few are), but when they are on the court together it looks like an NBA veteran (Luka) playing with someone who would be out of sorts in a church league (Powell).
I want to like Powell. He hustles and does the kinds of things you'd expect of a guy who is the second or third guy off the bench. The problem is that his hustle is only productive when he's playing against guys who are second and third off the bench, and that's not good enough for what the Mavericks need right now. If Powell can't produce against starters, he shouldn't start, period.
Powell is also committing more fouls per game in fewer minutes per game relative to last year. Fouls aren't necessarily a bad thing. Fouls can be beneficial if they stop an easy bucket, slow down a run, or otherwise do something other than just stop the clock or give up an and-1. But Powell's fouls this year have been lazy. They have largely been the result of being in the wrong spot, but again, there's not a statistic for that. (That said, if someone could figure out how to make a "quality foul" statistic, I think that would be incredibly interesting.)
Powell isn't even in the top 200 players in the league for fantasy statistic purposes. There are 30 NBA teams, and each of them start five players every night, so you'd expect Powell to at least be in the top 200. But he's not even in the top 30 centers. In fact, he's 37th, meaning that there are 36 centers in the NBA who are statistically superior to him this season, and that is…bad.
The problem is, of course, that the Mavericks' options are limited. Willie Cauley-Stein is a great option in short bursts but not over long periods of time, though interestingly he's averaging 3 rebounds per game in about 10 minutes per game, which are way better number than Powell if you look at rebounds per minute played. But WCS isn't at athletic and mobile as Powell and is historically less reliable from the free throw line, though he hasn't even attempted a free throw this year. Similar story with Moses Brown.
Maxi Kleber isn't a true center and has injury issues of his own (he's out tonight with back issues). That said, I'd be willing to bet he could hold his own against most centers in the league defensively. The problem there is that Kleber is one of the best, if not the best, Dallas defenders, so the Mavs can't afford to waste his ability by having him guard a less-threatening big man.
Can the Mavericks Beat a Good Team?
I honestly don't know. Judging by the way they played against Sacramento on Sunday, they should be able to. But judging by the way they played against Denver before that, and even in the wins against San Antonio and Houston, I don't know. I really don't know. If Dallas wins by 10 or loses by 25 I would be equally unsurprised.
Vegas, in my opinion, is being generous by making Dallas a 1.5-point underdog at home for tonight's game against the Heat, especially considering Kleber will be out in addition to KP. Generally home floor is worth about three points, so if this game was in Miami you would expect the Heat to be favored by 4.5 points, and right now the Heat look like a team that is better than that, but then again I'm not an oddsmaker or sportsbook manager, so what do I know?
Regardless, the Mavericks have a great opportunity tonight to show the fans and executives that the slow start to the season is a fluke. Luka Doncic is leading the team in points, assists, and rebounds, but Jalen Brunson, Tim Hardawar, Jr., Dorian Finney-Smith, and Maxi Kleber have all been contributing as well. The weak points are in the bigs. The time is right for a role player like Willie Cauley-Stein, Eugene Omoruyi, Reggie Bullock, or even second-year big man Moses Brown to step up. The Mavericks need to plan on not having KP for a while, and something needs to be done to minimize Dwight Powell's minutes because he is a total liability every time he's on the court.
Tonight is an opportunity. As a Mavs fan I'm hopeful, but as a lifelong student of basketball I'm pessimistic. Nothing would bring me more joy than having to write another article talking about how wrong I was, and I sincerely hope I get the opportunity.