On November 9, 1966 John Lennon visited the Indica Gallery in London to see an art exhibition called Unfinished Paintings and Objects. The exhibit technically didn't open until the next day, but in London in 1966 if you were a Beatle you had certain privileges that others didn't, so John was able to see everything a day early.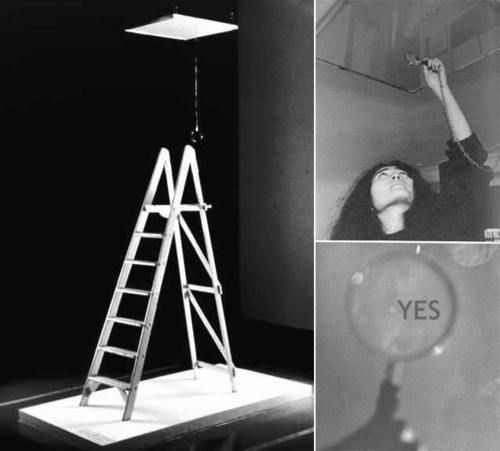 Unfinished Paintings and Objects was an interactive exhibit. Patrons who visited the exhibit during it's twenty-day run could occasionally participate in the art. For example Ceiling Painting, which was the word "YES" written in miniscule writing on a ceiling, could only be viewed by climbing a ladder and using a magnifying glass. Another exhibit, one that would have a much larger cultural impact than anyone could possibly have imagined, allowed visitors to hammer a nail into a piece of wood. In a bit of coincidence that could only happen around the Beatles, another exhibit consisted of one green apple on a stand, similar to the apple used for the Beatles' Apple Records. (The apple piece was priced at £200, which John apparently thought funny, and in a total dick move picked the apple up and took a bite out of it.)
Once he had been shown around a bit by the gallery's curator, John was introduced to the artist, a 33-year-old Japanese woman named Yoko Ono. Yoko claims she did not recognize John and that in fact the only Beatle she could name was Ringo because "ringo" apparently means "apple" in Japanese. John, who despite his beatnik reputation thought the exhibit was a bit superfluous, engaged his usual tactics of condescending flirting and asked Yoko if he could hammer a nail into the interactive nail-in-wood piece.
Yoko refused, but then said that he could for the price of five schillings. John, never one to be accused of slow wit, quipped back that he would give her an imaginary five schillings if she would allow him to hammer an imaginary nail into the wood. That was the moment John Lennon said he fell in love with Yoko Ono.
From Spark to Flame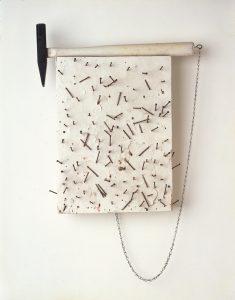 John left the exhibit and saw Yoko only sporadically for a while. Yoko was married to an American art promoter and film producer named Anthony Cox, with whom she had a daughter. The two were originally married in 1962, but that marriage was annulled in 1963, but then I suppose the reconsidered again and actually remarried in 1963. By 1966, however, Yoko and Anthony were growing apart and were somewhat estranged. In fact, the difficulties of their marriage inspired some of the art in Unfinished Paintings and Objects.
John, meanwhile, was married to his first wife, Cynthia. John was habitually unfaithful to Cynthia and was by all accounts a cruel and cold husband. It is widely believed that he physically abused Cynthia, and while he cheated on her regularly, when she finally cheated on him he filed for divorce on the grounds of her infidelity, which lessened the amount of money she could get in the divorce.
Over the eighteen months following John and Yoko's initial meeting, they steadily grew more comfortable around one another, and it wasn't long before their relationship turned romantic. Yoko divorced Anthony Cox in 1969, by which time she and John were living together. John divorced Cynthia in 1968. John and Yoko married each other in 1969 and remained married until John was murdered in 1980. The relationship produced one son, Sean, who not only looks a lot like John but is also a musician.
The Breakup
Of course most people believe that Yoko Ono caused the Beatles to break up. However, that really is an unfair overgeneralization of the situation. The other Beatles did not like Yoko attending their recording sessions at Abbey Road Studios and did not particularly care for Yoko's unique brand of avant garde artistry, but ultimately it's John's fault for allowing her to come to the studio to begin with. I mean, can you imagine inviting your significant other to be in the room while you and your work team held an important meeting or gave a presentation? But Yoko's presence was just a drop in the bucket.
Paul McCartney and John Lennon had been drifting apart creatively since Sgt. Pepper's Lonely Hearts Club Band was released in 1967. George Harrison's songwriting ability was egregiously overlooked by Paul and John, and George understandably grew bitter. (While unfortunate, John and Paul's refusal to allow more George songs on Beatles records has a fortuitous ending because George's first solo album, All Things Must Pass, is the best album any Beatle ever released individually.) Ringo just wanted to play drums and was sick of all the fighting. He actually quit the band at one point, which resulted in Paul sitting in on drums for, poetically enough, "The Ballad of John and Yoko." I'm sure the irony was not lost on them.
During the recording of Let it Be, tensions were at their highest. In fact, Paul and George famously argued about the direction of a song (see below). Let it Be was contentious in its recording, and behind the scenes more fights about who would manage the band's money, how important the Apple label was, and the creative direction the band was taking all led to general unpleasantness in the band. Even the production and editing of Let it Be was contentious because of differences of opinion of producer Phil Spector's "wall of sound" style of production. Things were so bad that after Let it Be was recorded, the band wrote, produced, and released Abbey Road several months before Let it Be was actually released.
By 1970, the Beatles were through. The four of them would never play together again, although many times they played in groups of two or three together. John would go on to get more into social justice and beatnik culture with Yoko, Paul would stick with a pure pop image, George would fully come into his own as an artist, and Ringo…well, Ringo released a few albums, became a vegetarian, and was in one of my all-time favorite bad movies, Caveman (featuring a very young Dennis Quaid and Shelley Long).
So, did Yoko break up the Beatles? Absolutely not. Don't get me wrong, I'm sure her being around didn't help, but the Beatles were destined for a break up long before Yoko arrived on the scene. The Beatles were probably the four most famous people on Earth for several years, and by the time they broke up the oldest one among them was Ringo at a wizened 30 years of age. When that many young men get that famous that quickly, confrontation and creative headbutting is inevitable. But any way you slice it November 9, 1966 is an important day in Beatles history, because 55 years ago today, John met Yoko. The rest is history.