Originally published July 12, 2021
Editor's Note: With Covid numbers falling and things getting closer to "normal," trade convention season is right around the corner. Please allow this to serve as a brush-up in case you haven't been to a trade convention since before 2020.
In the time before Covid, different industries would have conventions. These conventions would be held at places called "convention centers" and would allow folks in that industry to gather, network, gossip, and generally catch up with one another. In a typical convention, companies in that industry would purchase booth space to be manned by a couple of their employees. Often these booths would also have some SWAG (stuff we all get) to hand out to other conventiongoers as a cheap way to market and to start some conversations.
I grew up in the world of wholesale nurseries. Plants, not kids. My parents own a nursery out here in Texas, and they used to attend the annual Texas Nurseymen and Landscapers Association convention (formerly called the Texas Association of Nurserymen, but then the landscapers felt left out I guess). My sister and I would tag along, and we absolutely loved getting the SWAG. Hats, pens, yardsticks, whatever.
Maybe it's because I'm a pretty social person, but I am actually starting to miss trade conventions like that. Between that and the fact that I realized this morning that I have a bunch of coffee mugs, pens, and even hats from various conventions I've been to over the past few years, it got me thinking about the best convention SWAG. So, like most ideas I have that seem very mundane, I pondered it more and out came this list.
12. Folding Fan
These are always available, and normally from one of the bigger companies in attendance. But who uses them? Honestly, I've never seen someone using a fan like that except in the immediate aftermath of grabbing it from the table. That said, sometimes you can throw them like a Frisbee, which is cool. But other than that you're just going to have a fan that you will lose at some point in the near future. The only advantaged to carrying a fan like that around is if a woman swoons and faints and needs to be fanned as she regains consciousness, but I think that only happens in bad movies, so…
11. Tape Measure
When I was coming up with this list it was really a toss-up on which was the worst: tape measures or fans. Normally it would be a no-brainer. Tape measures are practical and good to have around. However, the "tape measures" they give out at conventions are always either very short or are fragile or whatever. Sometimes you get one that is an actual tape measure, and other times you get ones like those in the picture. The crappy ones like the ones in the picture are always short (3–5 feet at the most), the automatic winder never works all that well, and the tape itself is fragile. However, even the bad ones have some practical usage, which is why these slightly outpace the fans. I have actually used one of the crappy 3-foot ones before in a pinch, and it worked, so it can't be the worst thing on the list.
10. Tire Pressure Gauge
On one hand, these are great because they are useful. On the other hand, how often do you really need a tire gauge? I have a tire gauge in my truck that I'm pretty sure came from the aforementioned nurserymen conference in about 2003. It works, which is great, but I can't see why I would ever need more than one of them. But, as I said, they are practical, so they can't be the worst thing on the list.
9. Yardstick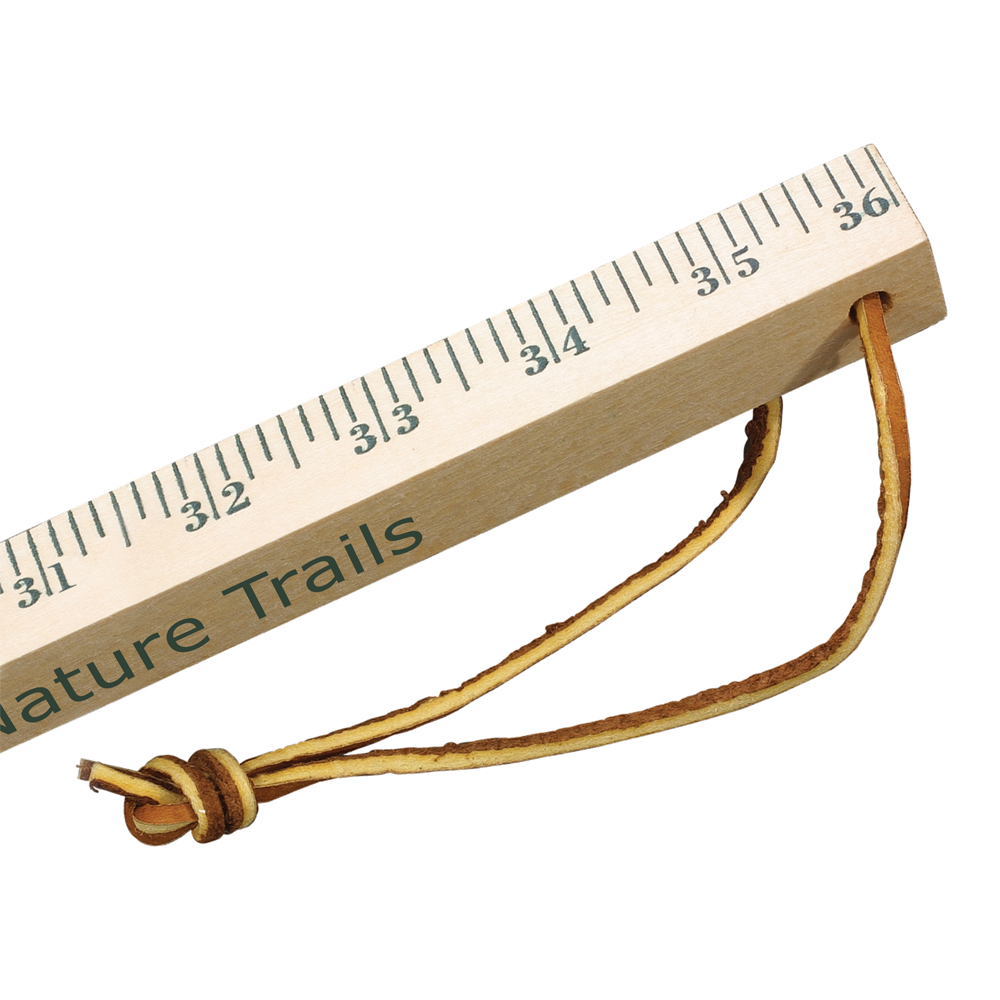 I love yardsticks. I loved them when I was a kid because I could use them as swords or guns when I would play with my friends. I liked the flat ones, but I really loved the squarer ones like the one pictured. Yardsticks aren't just great for measuring things, but they can also be used to stir paint, to scratch your back, to reach stuff, to prop doors/lids open, as a walking stick if you're very short, and as a weapon if you're ever being attacked. Unfortunately I don't think these are as common as they once were, but either way I like them and miss getting them at those conventions. Inevitably every yardstick I had would somehow get broken. I'd leave it lying somewhere and then accidentally step on or drive over it later and break it. But still, it was always fun while it lasted.
8. Reusable Bag
When I was a kid, the reusable bags were mostly drawstring bags. I used them to hold my basketball shoes or would occasionally use one to hold pieces of something (for example, the extra attachments that go with a vacuum). Nowadays the bags are generally reusable shopping bags like the kind they get you to use at grocery stores. I like them. They're useful and help prevent you getting judged by the millionaire moms in Whole Foods. The biggest downside is that sometimes the bags are really, really cheap. I had the bottom fall out of one from the weight of two boxes of pasta. Two boxes of paste. Combined weight was probably like 24 ounces at the most. Unbelievable.
7. Plastic Cup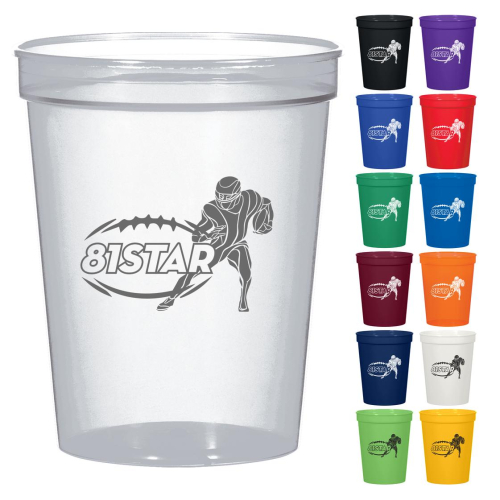 Now we're really into the good stuff. From here on, each of things is always worth grabbing at a convention. Plastic cups are normally like the ones they give with kids' meals at some restaurants. Cheap but dishwasher safe, provided you don't mind the logo wearing off eventually. In college I would go to job fairs on campus and would get as many plastic cups as I could because I didn't want to actually buy any drinkware if possible. My wife and I still mainly use plastic cups that we've gotten from restaurants or conventions. They're great because they're practical, they can be used at home or at work, and they can be used for drinking or something else. We used one as our dog food scoop for a long time. And the best part is that the cup was free, so if you lose it or it breaks it's really not a big deal.
6. Pen
I have a bit of a love-hate relationship with pens. On one hand, I love pens. I can never have enough pens. I write a lot of stuff by hand, so I'm always in need of a pen. On the other hand, I'm very picky. For instance, I only use blue ink if I'm taking notes, red ink if I'm editing something, and green ink if I am making notes on a document that someone else will review. I'm outrageously persnickety about that kind of stuff. But I still love getting pens, and they are always useful to have around. I keep pens in my bags, in my truck, in my luggage (so I don't have to think about it when I'm traveling), on my nightstand, in every room of my house, and even in my golf bag, just in case. And if occasionally a black ink pen finds its way into my collection, that's okay. At the end of the day if I need a pen, I need a pen.
5. Notepad
I mean, if you're getting pens, you might as well get notepads, too. I like notepads because, like pens, they're good to have around. I have notepads everywhere, and most of them have the names of businesses I have no recollection of ever visiting. But they sure are handy. Occasionally I'll get a call while I'm traveling or whatever and if I'm in a place where I can write something down, I always like to do so. In those times I reach for whatever notepad is near me (right now it's one from National Title in Rockwall, Texas). Sometimes they have sticky parts like a Post-It, sometimes they don't, sometimes they're ruled, sometimes they come with a little tiny pen, and sometimes they're even spiral bound. I love a good notepad. The downside is that sometimes companies put their logo over about 50% of the writing surface which is just inefficient and goofy looking to me. But either way, it's nice to have notepads around.
4. Frisbee
Oh, boy, do I love a good Frisbee! What's not to like? It's a toy that is acceptable to play with as an adult. It can be used as a plate in a pinch. It can be a dog toy or something you take with you when you go camping or to the beach. I love throwing the Frisbee around. I worked for my uncle for a while and he would have a Frisbee with him in his office, and when it was slow we would go outside and throw the Frisbee around. Those are some of my favorite memories from that time, no fake. The problem is that the good Frisbees are expensive and the cheap ones fall apart really easily. Of course, it's free, so it shouldn't matter all that much. However, I still love a good Frisbee and I miss tossing the disc around with people.
3. Coffee Mug
I try not to take anymore coffee mugs because we have an absurd amount of them now and I'm afraid if I bring anymore home my wife will kick me out. But seriously, how great are coffee mugs? I like having a couple in my office: one for coffee, and one for bourbon. They only downside to a coffee mug is if the company handing them out really went the cheap route and got one that wasn't dishwasher safe or something. Sure, the logos will wear off and the ceramic will stain if you drink enough coffee from it, but they're always nice to have around. And, like the plastic cups, you can use them for other things. I have one in my garage with a bunch of spare hardware in it. I have another one that holds pens. It's great.
2. Hat
This item and number one have a few things in common. For one thing, they're both articles of clothing. For another, the quality can vary widely. And for yet another, the good ones are great and the bad ones are still okay, too. Promotional hats come in all sorts of designs. Trucker hats, dad hats, rope hats, five-panel, six-panel, stiff, loose, whatever. Like coffee mugs, I have quit taking hats because I have so, so very many right now. I need to get rid of some of them, but I just can't make myself do it. But I love wearing random hats. Occasionally someone will stop you and say, "Oh, my brother-in-law works at Hugh Jass Insurance, do you know him? His name's Mike and he's kinda short with red hair?" And then I get to awkwardly but confidently say, "Actually, no, I just got this hat at a convention," which simultaneously confuses them and puts a smile on my face.
1. Shirt
Maybe y'all saw this coming, but shirts are the best SWAG out there. T-shirts, Hawaiian shirts, Oxford shirts, whatever. The down side, of course, is that if the booth doesn't have your size, you're kind of SOL. However, if they do have your size, how great is it to get a shirt? Even if it's dog ugly, you can still use it for yardwork or sleeping or painting or cooking or whatever. Hell, I've gone ahead and gotten t-shirts that weren't my size just so I could use them as rags. I know, that's kind of crappy of me, but I love SWAG and feel like I'm missing out if I don't take something. It's like if you go to a ballgame and the first 5,000 fans get a t-shirt. Even if you won't wear the shirt, you still take one, right? I love a good shirt.
What Didn't Make the List
In case you've read this and thought to yourself, "wait a minute, there are some SWAG items that I know exist that aren't on this list," never fear! I have thought of that so I wanted to make a list of the items I intentionally left off the list:
Keychains;
Lanyards;
Candy with custom labels;
Water bottles;*
Flash drives;**
Wallet-sized multitools;
Paperweights;
Flashlights;
Sports balls;***
Glasses cleaners; and
Sunglasses
*They're never dishwasher safe and no matter how thoroughly you wash it, there's always a sort of leftover chemical taste.
**They're always something ridiculous like 50mb and for some reason they never seem to fit quite right.
***There is nothing on earth more pathetic than the cheap plastic/rubber miniature footballs, basketballs, or tennis balls that companies sometimes give away.